Girls Dresses Under $10, Ladies Dresses Under $15 @ Old Navy!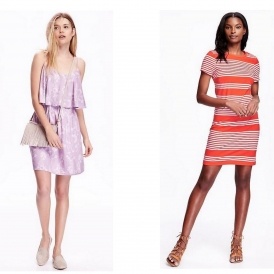 I need a nice dress to wear to a special birthday celebration this summer. I'm getting tired of wearing the same old dresses to events. I bet you probably need a dress for a special occasion this summer too. It seems like the best parties and celebrations happen in the summer!
For one day only, Saturday May 7 - Old Navy is having a huge dress sale! All dresses are 50% off. I was happy to see that they have a selection of dresses that are all under $15 for ladies, and under $10 for girls! Not only that, but if you use the code BONUS you will receive a 30% discount on women's clothes (some restrictions apply.) Now that's a sale!

Have you ever seen a dress in this Tiered Style? It's so cute, and it looks perfect to wear all summer long for daily wear, or even a special event or occasion! You can purchase it in a french lavender or pink paisley pattern. It's on sale for $13.50, down from $35.

Look at how beautiful this Fitted Tee Dress in orange stripes looks on the model! There are two other shades available, a medium grey heather, and a bluesday, (which is a deep blue shade.) It's on sale for $14.50, down from $30.
This Jersey Swing Dress has got to be the most comfortable dress in the world. not only that, but it's a really cute dress. It looks like it's fun to wear. This dress is available in blue stripe, olive stripe, navy stripe, and a solid shade, blackjack jas. This dress is also $14.50, down from $30.
If you are looking at girls dresses, there is a huge variety of dresses that start at only $9.50 and they all look really nice with the styles and patterns that are available! Check them out here in this refined search link for girls dresses under $10!

Shipping is free on orders over $50, and returns are free both online and in-store. Otherwise, shipping will start at a very reasonable $8.
(Deal Expiry: May 7, 2016)