Up to 30% off Jeans & Coats @ The Bay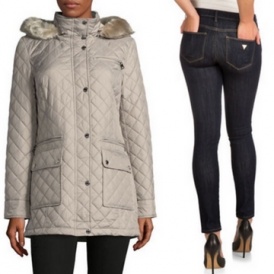 It's not every day you see fall apparel on sale during the fall, but that's what happening at The Bay right now! Women's jeans, coats and more are 25-30% off, and there are tons of awesome pieces to choose from!
This is essentially a chance to pick up a few cooler-weather pieces – or build a brand-new fall wardrobe – so why pass it up?
I've had a pair of these Guess Jenna Stretch Skinny Pants for over a year, and they're amazing. They haven't stretched out at all, and I can even get away with wearing them to work!
Take a peek at some of my favourites:
Jeans

Coats
Other items are included in this sale too, like the awesome Levi's Ex-Boyfriend Cotton Trucker Jacket, marked down to $96!
Orders over $45 ship free if you use your HBC Credit Card. Other orders over $99 ship free.