Try That Canada: Exclusive Coupon For An Extra 10% Off Amazing Experiences!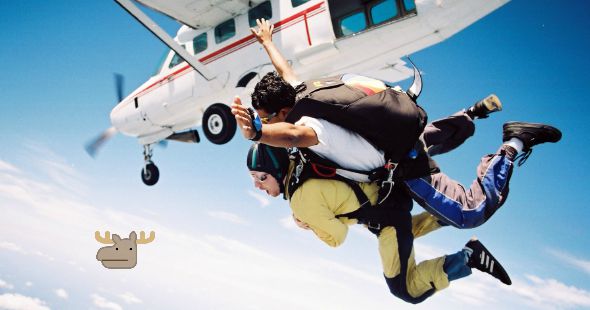 Try That Canada is definitely the experience company. If you are looking for a unique Christmas gift, or something to do with your family then this is the place to look. Also keep in mind that we have an exclusive Bargainmoose coupon code for 10% off your purchase, which makes it all that much better. Get an awesome experience, and save money too?! Woohoo.
When browsing the options for the best gift ever over at TryThat.ca, you can shop by province or international. I think this is going to be the first place I check for gifts in the future. Whether it be for birthdays, Christmas, or just a thank you. There are even Try That Gift Certificates if you can't decide on one perfect experience for something.
Coupon code: BARGAINMOOSE10
Discount: 10% off your order
Expiry: Unknown
So how does it all work? First take a browse through Try That Canada and choose with experience you would enjoy. Then, you can purchase it and print out the voucher. You can either keep it for yourself or give it as a gift, but whoever is booking the experience will need to book online or call when they are ready to use said voucher.
Once you select your province or region, then you can sort by category. I clicked Ontario of course, and then I was given the option of browsing all or choosing from the following categories: air, attractions, getaways, groups, land, lifestyle, pamper, platinum, theatre, water, wheels, wine & dine, and freedom vouchers. Let's take a look at Lifestyle!
Once I clicked that specific category, I was actually pretty amazed at the variety of Lifestyle Try That vouchers available. You can be a rock star for $50, take an at home cooking class for $265, or even take a beer appreciation masterclass for just $99. Haha, there are even pole dancing classes for just $45 in Toronto. To be honest, I have always wanted to try that. My friends say that it is great exercise. There are so many options and I could easily get half of my Christmas shopping done right here, right now. Some of the prices are already pretty fab, so they are just that much better once you use our exclusive coupon code to get an additional 10% off your purchase. Too bad it can't be applied to the actual gift cards.
You can view our Bargainmoose forum for more TryThat.ca discounts and coupon codes in the future. If you love this deal, then be sure to sign up for email updates on our Try That Canada page so you don't miss out on similar offers in the future.