The Body Shop Canada: Buy 3 Get 2 Free, Buy 2 Get 1 Free, or BOGO 50% off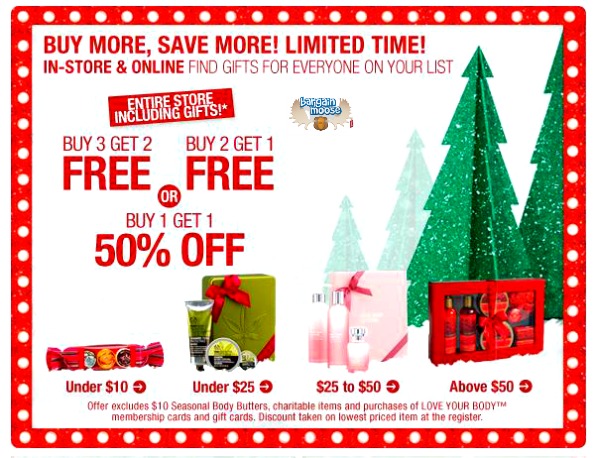 The Body Shop Canada is having a great sale again for those last minute stocking stuffers you need to get.
Here are the details of this sale:
Buy any 3 items store wide get 2 items free
Buy any 2 items store wide get 1 item free
Buy any 1 item store wide get 1 item 50% off
All deals include gift sets
This offer has a couple of exclusions:
Offer excludes seasonal $10 body butters, charitable items, and purchases of Love Your Body membership cards and gift certificates
This sale is online and in stores but I can't seem to find the expiry date of it.  I love getting The Body Shop items in my stocking and it's so easy to send my husband to their website. Pretty much anything he chooses from there for me, I would like.  If you are looking for something different instead of the same old lotion, their exfoliators and scrubs are amazing and pretty reasonably priced compared to drugstore prices. 
(Expiry unknown)