Teambuy Canada: $15 for A Dirt Magic Wet/Dry Auto Vacuum – Tax Included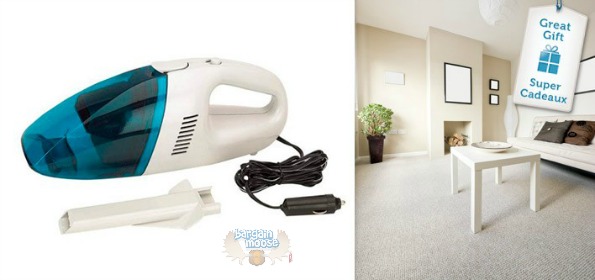 Teambuy Canada has the Dirt Magic wet/dry auto vacuum on sale for just $15 including tax (a $50 value!).  You can buy as many as you wish, but Teambuy is not responsible for any undelivered or return packages.  Vacuum will be mailed to you when deal is closed.
This is a great deal as far as I can tell.   I checked Amazon and Ebay, and both are selling the same vacuum for $30+.
This vacuum is a must if you have children, pets or both, and all the little messes that come with them.  You can also use it for those hard to reach places like stairs and smaller areas that are not a flat surface or on the floor.
I have my grandchildren here as often as possible as well as owning a small dog, and I can tell you that this is a huge time-saver.  The children love to spill things and the dog likes to help scatter the mess around, and it somehow always finds corners and hiding places that are hard to reach.
This vacuum works to clean wet and dry surfaces, which is awesome, has 12V of power, has a washable filter and an 8 foot power cord with vehicle power source plug.
I'm not entirely sure that this would make a good Christmas gift, but it definitely would be handy to have around during the holidays.
Shipping: $4.
(Expiry: 25th November 2012)