(50% Off) New Additions to the Christmas Clearance Sale & Free Shipping @ Walmart.ca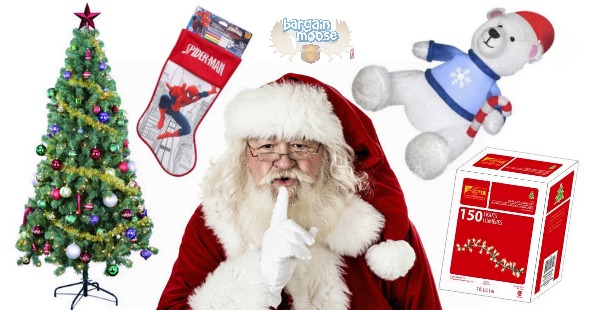 It is that time of year again. The time where retailers put their Christmas items on sale at crazy discounts. Right now Walmart.ca has quite a variety of Christmas decor items on clearance sale. Shop at Walmart Canada and you can take up to 50% off Christmas trees, inflatable decor, lights, and other items. Walmart always has free shipping too.
Eva had previously mentioned the Walmart Canada Holiday Clearance sale, but with these new additions I just couldn't pass up writing another post. While you may have just finished putting all of your Christmas decor away, it is never too late (or too early) to enjoy deep discounts on Christmas items.
If you're in college or off to university this year, your dorm probably won't have much room for a large Christmas tree. This 3.5-ft Canadian Pine Tree is perfect for small spaces or offices too. It was priced at $20, but during this Christmas clearance event, you will pay just $9.50. You may prefer larger Christmas trees, though. The 6.5-ft Spanish Quick Set and Perfect Shape Spruce was $199 but now you will pay just $99.50. This Christmas tree from Walmart.ca is already equipped with LED multicolour lights.
If you do purchase a Christmas tree that is not pre-lit, you might as well use this Walmart.ca clearance sale to get yourself some lights as well. The 150 Garland Light Set was $12 and is now $6. I find that 150 lights is more than enough for the average Christmas tree.
I can't even count how many Christmas ornaments were broken in my house this year. Our new kitten just loved climbing all through the Christmas tree. I put the 50 Piece Shatterproof Ornaments in my shopping cart. Hopefully they hold true to their shatterproof title, or hopefully the cat is not so energetic next year. These ornaments would have cost you $29, but since it is after Christmas you can get them on clearance sale for only $14.50. 
There are quite a few of the airblown inflatable Christmas characters on sale for 50% off during this clearance sale at Walmart. I personally prefer the smaller ones (between 5- 6 feet), but that is mostly because I have a smaller front yard. The Airblown 5FT Inflatable Polar Bear is super adorable with his Santa hat, Christmas sweater and candy cane. While the original price was $90 (and too steep for me), during this sale you will pay just $45. The Airblown 6FT Inflatable Penguin and the Airblown FT Inflatable Snowman are the same price.
There are 189 items on clearance sale during this Walmart.ca offer, so be sure to take a look for yourself. Also be sure to check that your local store price is not less than the Walmart.ca price. Sometimes individual stores will offer greater discounts during these sales. Keep in mind that Walmart.ca does offer free shipping on all orders, with no minimum purchase. This is great because the free shipping even applies to larger items like the Christmas trees.
(Expiry: Unknown)