Sears Canada: Up To 40% Off Christmas Wish Book Items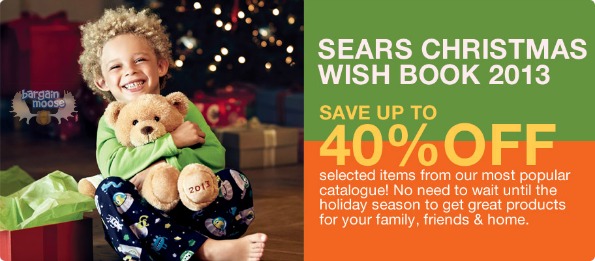 Even though we've moved to a more digital lifestyle and to online purchasing, there is something about that Sears Christmas Wish Book that makes me giddy. You can still shop online with the Wish Book, and right now if you want to get your shopping done early, you'll save up to 40% off.
For me, I spend the majority of my Christmas budget on toys or items for my kids. My kids would absolutely love this Peg-Perego Gaucho super-power ride-on toy. Was $999.99, now $899.99. They aren't going to get it, but maybe yours will.
I'd love an iPod and this Sony iPod dock clock radio. I don't normally use an alarm clock as my kids have that service down to the screeching wakeup, but I do need a new clock beside my bed and I'd love one that can play my new iPod (hint, hint). Was $59.99, now $49.99.
I always buy my hubby clothing for Christmas since he is not much of a shopper, and I am way more stylish. He likes having sweaters and vests to visit customers, so this Point Zero merino wool-blend sweater vest is the perfect gift for him. Was $65, now $39.
As for the cost of shipping, it starts at $7.95, but you also have the option of having it sent to a store near you for a reduced cost.
(Expiry: Depends on item)