Portable North Pole Promo Code: Exclusive 15% Off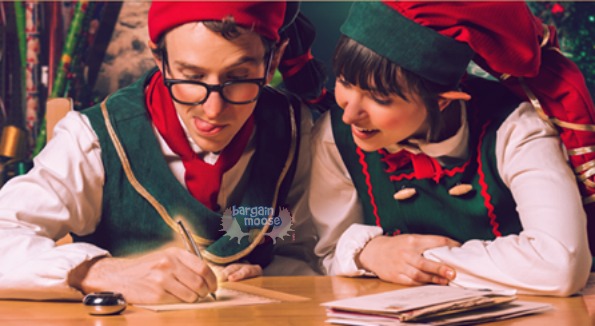 I'm sure you've heard of Portable North Pole, where Santa calls or sends your child a video. We've previously told you about the free ones you can do, but did you know there is a premium video that has so many more fun features? And when I say fun, I mean for you and your children. Right now with our exclusive coupon code, you can get 15% off premium services.
Click here to make your Santa video @ Portable North Pole now
Coupon Code: MOOSE15
Discount: 15% off
Expiry: 22nd December 2014
I decided to get the premium video for my oldest son to try it out. Once I did, I wished I had got the unlimited videos as I wanted the premium videos for my younger two children. With the free videos, you get to put a photo of your child and of something they want. With the premium video, you can add more pictures, like a special day they had this year, a picture of their home and more. The video has much more to it as well, and there are three choices for videos, so if you did have more than one kid, they would each have a different video.
I definitely used these videos to my advantage to tell my kids where they need to approve. I loved the extra-long list of what the kids need to work on. For example, my youngest needs to listen to his teachers, my middle son needs to go to bed easier and my oldest needs to be nicer to his brother. All of those options are on the list, which made it very easy for Santa to tell the kids to shape up!
I like that you can choose to put them on Santa's naughty list, the nice list or just in between. I didn't have the heart to put any of mine on the naughty list, so I put them in between. I think I'll make another video and put them on the nice list just before Christmas. Hopefully they earn it!
I noticed on another coupon code we have for Portable North Pole that Mooser urzakat commented that she has five kids and saved money on the premium package, as I said, you can do unlimited videos. So, this coupon code would be perfect for those of us on this side of crazy with a few kids under our belt.
One premium video costs $3.99 and with a 15% savings, you'd pay $3.54. The unlimited holiday pass is $9.99, so with our exclusive coupon code, your total would come down to $8.49.
There are quite a few other videos on there, including a free birthday video, which I also took advantage of for my son whose birthday is in December, but Santa also saved ones for my younger two that I can show them later in the year.