NORAD Santa Tracker Now Live!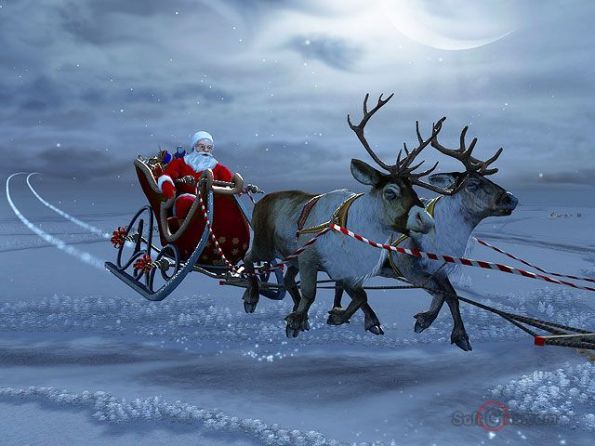 On Christmas eve, I bet you get tired of hearing "Where is Santa now?" or "How long until Santa gets here?". Well have you ever heard of the NORAD Santa Tracker? This is a nifty website designed to keep you updated on Santa's supposed whereabouts on Christmas eve. It is a fun thing to keep track of with the kids, and it will also help get them to back at a decent time so you can set everything up. Did I mention that all of the features are totally free!?
Now you and your kids will be able to follow Santa as he makes his magical adventure around the earth from North Pole. The NORAD Santa Tracker has music, games and so much more for you and your child to explore. The NORAD Santa Tracker has been around for sixty years now, and it has become a part of the tradition for many families around the world.
This tracker is seriously cute. I remember watching Santa fly through the air alongside airplanes, over the ocean, through the mountains and everything with my toddler last year. It also said that Santa was getting close to our area around 8PM which makes the kids want to hurry to bed so they are not awake when Santa arrives. I have a big Thank You to NORAD for that particular feature. If you really read into the website, it has a lot of fun facts and such for the kids. Did you know that the satellites use an infrared sensor to detect heat signatures from Rudolph's nose? That is how they provide an accurate tracking of the sleigh.
This website is definitely a big hit every year. Last year alone they reached 19.5 million unique visitors in just December. I can see why though. The website is super cute and has a ton of different features. Here are some of the areas you can explore in Santa's Village at the NORAD Santa website:
The Theater - watch movies about Santa and NORAD
Gift Shop - buy Santa and NORAD gear
The Arcade - play a new game every day
The Music Stage - listen to Santa's favourite Holiday songs
The Library - learn about Santa, his magical sleigh, and special Holiday traditions
NORAD Home - learn about NORAD
NORAD actually happened back in 1955 when Sears made a mistake on one of their publications. They sent out a flyer with a phone number to reach Santa, and actually had a typo in the phone number. Instead children ended up calling CONAD which is the Continental Air Defense Command Center. The colonel on duty that night made sure that his staff told children where Santa was anytime they called, and they have been doing it ever since. They have upgraded their technologies and such of course. Now we can just use the NORAD Tracker online to see where Santa is on Christmas Eve.
Moosers, do you use NORAD to keep tack of Santa with your Kiddos?