Melissa & Doug Giant Plush Elephant was $75 now $35 @ Sears.ca (EXPIRED)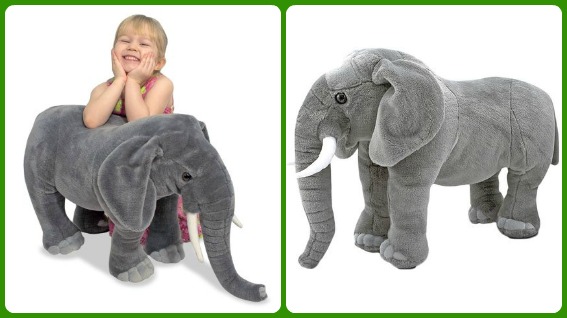 The Sears Canada $10 off $25 coupon ends today, so let's address the elephant in the room. This Melissa & Doug Giant Elephant Plush is sure to light up some faces on Christmas morning. If you purchased the Dolphin Plush I blogged yesterday, then you may also be interested in this giant elephant plush. It was originally $74.99 and is on sale for $44.99. With this Sears.ca coupon code for $10 off $25, you will be left paying just $34.99.
How adorable is this Melissa & Doug Giant Plush Elephant? While I would be very hesitant to pay the original price which was $74.99, I am very tempted to call this stuffed animal mine for just $34.99.
So here's the coupon code for an additional discount:
Coupon code: 941612495
Discount: $10 off $25
Expiry: 6th December 2015
This elephant plush is the one that you see at the toy stores. You know, the one that would cost you $100 or more and you think "Who would even buy that for their kid?"... well you just bought it! But for only $34.99. Now you can brag when other parents mention that you bought that ridiculously priced thing that all the kids ask for. I guess for the size of it, it is worth the pretty penny. At other retailers this same elephant is listed for over $70 or more. Chapters.Indigo.ca has it for the next best price at $69.95. Amazon.ca has it for $122.44 and BestBuy.ca has it for $89.99. Melissa & Doug puts lots of excellent detail into their plush toys - right down to the wrinkled trunk and floppy ears. While it is big enough to do so, this toy is not intended for your child to ride.
If your child (or yourself) prefers dolphins over elephants, then Sears.ca also has the Melissa & Doug Dolphin Plush on sale for 20% off. It was originally $44.99 and is now just $35.99. With the additional $10 off $25 you will pay just $25.99 which is quite a deal if you ask me. You might even want to snag both, though you can only use the $10 off $25 once per transaction.
Sears.ca offers free shipping on all orders over $49. If you don't spend that much, don't worry about it too much. Sears Canada also offers free shipping to a local store, and with over 1300 locations there should be one close enough that it is not too much of a hassle to stop in and grab your purchase.
To view all the Sears.ca coupon codes, check out our Bargainmoose forum.