Mega Bloks Despicable Me Build-A-Minion Was $70 | Now $52 & Free Shipping @ Toys R Us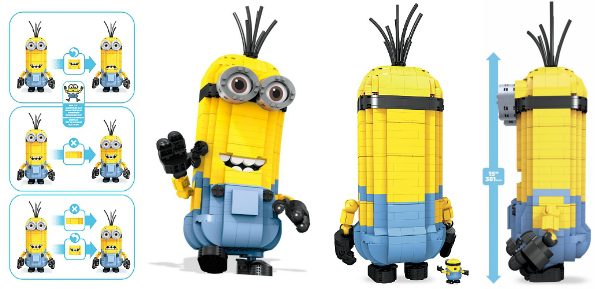 This has got to be one of the hottest and coolest toys released just in time for Christmas! The Mega Bloks Despicable Me - Build-A-Minion set is loaded with all the yellow, blue, white, and black bricks you need to build yourself a giant 15" minion! This 776-piece set is sure to produce squeals of delight when your kids (or big kids) find it under the Christmas tree this year. Originally $69.99, this set is now on sale for $52.47. You will also receive free shipping as the set costs over $49 and qualifies for that promo.
We are talking the COOLEST toy ever! Mega Bloks has teamed up with Minions to offer every kid and kid at heart what they really want: an amazing Minions building block set. This 776-piece set will give you hours of fun building and customizing your Minion Kevin. This guy stands over a foot tall (15") and can be customized. Make him shorter or taller. Make him smile or frown. Change his pose. You can even have the pocket on his overalls closed or open. There are many ways to customize Kevin when you build him. Then, you can tear him down and build him all over again a different way.
This jumbo-sized Kevin comes with a regular size buildable minion Dave as well! That means you get two figures on this set so they can go on adventures together. Kevin may be way bigger than Dave, but he loves his little buddy all the same. One reviewer said:
My son loved this product. He put it together very easily! Mega bloks should continue to make large building sets like this! We love the little sets but this one was really great when finished.
Like all Mega Bloks building sets, these blocks are compatible with all other building blocks like LEGO. Now, I know you are all waiting for a price comparison, but there just isn't one to be had! Walmart, Canada, and Sears do NOT stock this toy, so you can only find it in Canada at Toys R Us. Given the size and theme of this set, I am pretty happy with this deal from Toys R Us Canada.
There is a limit of two per person.
(Expiry: Unknown)