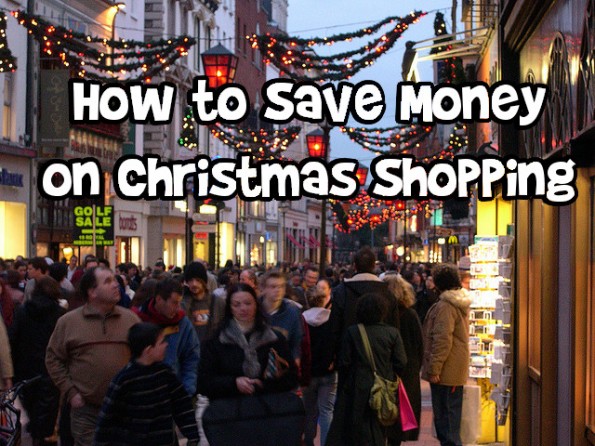 I know, I know, but we're about a month away from the annual holiday festivities, so it's probably best to start talking about Christmas shopping now, especially since we figure most of you are well underway.
You should be anyway because depending on how many siblings, children or grandchildren you have, Christmas shopping can be incredibly daunting and even if you don't spend a lot of money on each individual person, it all adds up pretty quickly. After all, $20 for five people is $100 right away.
So what do you do? How do you stop the potential financial bleeding?
Well, you've come to the right place. Below you'll find a number of ways you can minimize more money leaving your pocket than absolutely necessary.
Give through a Gift Exchange
My girlfriend has four siblings, each with significant others, and comes from a very large family on her father's side, but her wallet thanks her every year at Christmas time. This is because after so many years of spending hundreds of dollars on each other, all sides of her family agreed to do something different – gift exchanges.
Each side of her family has one and the rules vary slightly in each exchange, but they all come down to having to buy just one gift for one person per exchange pool. What we do for the sibling exchange, for example, is draw names to see who we're buying for (one rule: you can't buy for your boyfriend or girlfriend) and then set the price limit (usually between $60 and $75)
No matter what the rules are or what the limit is, a gift exchange can mean that you don't have to buy for a whole whack of people all at once.
Help People Save Money on You
Here's another strategy from my girlfriend's family. This time, from her parents. Instead of buying gifts for them every year, her parents suggested that their children just get them beer or wine from the places they visit whenever they happen across it.
There's no timeline, no pressure and no occasion to mark the giving. Plus, a bottle of wine or craft beer every so often is a lot cheaper for their family than other things their parents could be getting.
I've also heard of people requesting that their families make charitable donations on their behalf in lieu of gifts, which is also a great idea.
Have a Budget for Each Person
In Bargainmoose's 2013 article, How to Budget and Stay on Budget at Christmas we suggest dividing your holiday budget into sections with titles like, "Extended Family Gifts," "Spouse Gifts" and "Kids Gifts."
Laura Adams's Money Girl Podcast takes our idea a step further by suggesting you should set up a budget for each person's gift, rather than having your heart set on a particular gift for that person that may turn out to be too expensive. After deciding the total amount of money you can spend on gifts, you should assign an amount to each person on your list. (including taxes and shipping where applicable) If you still can't afford to buy for people, you need to either shorten your list or lower the gift amount for certain people.
Rank the items in order of importance and buy the most important gifts first, so that you're not tempted use a credit card and go into debt to purchase them.
Find Gifts that Get You the Most Bang for Your Buck
When Canadian Living interviewed personal finance blogger Kerry Taylor, she said that the best gifts are those that get the most mileage. I tend to agree, as gifts that have the most meaning are always the ones people remember most.
Though, she warns about investing too much in homemade gifts because sometimes the cost of supplies can exceed the price of buying a gift at the store. Avoid this situation by putting class in a few basics. A card from regular paper folded in half looks cheap, but if you put a Christmas design on it and fold it into festive origami (found online) your recipient can then hang it on the tree. Even if you're not a cook, you can still give a homemade foodstuff. Instead of giving a baked good or some other snack, try putting the dry ingredients in a jar with the recipe.
More mileage doesn't always mean homemade, take to Craigslist, Kijiji or Ebay to look for a meaningful item from your recipient's past. If they are a collector, try finding the piece of their collection they've always wanted, but can never find. Make sure though that these gifts get more mileage for your bank account as well as in your recipients' lives.
Plan Ahead
Okay, well we know if you're reading this now, with one month to go, you didn't exactly do the above, but there's always next year, right?
With that in mind, try looking for one daily indulgence to eliminate and convert into Christmas cash. Sign up for a Christmas hamper, which can spread the cost of a holiday meal over months instead of days. You can even do the old change jar trick. It's the one where you put loose change in a jar throughout the year and put it towards your Christmas spending. For more tips like this, see my source at Organized Christmas.
Photo credit: Ben and Kaz Askins