Disney Baby Simba The Elephant Stars Soother Was $65 | Now $25 @ Walmart.ca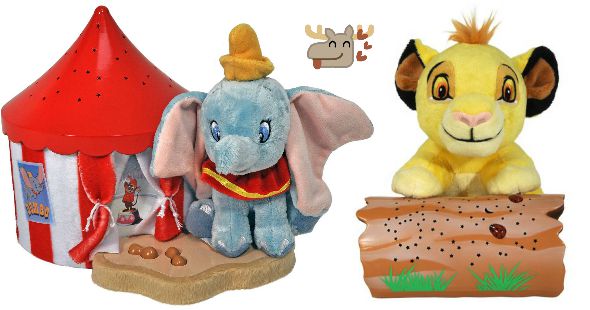 *Bump! This offer is back for Christmas, but only Simba is in stock right now*
Disney has been popular for a very long time, and all kids seem to love Disney movies and characters. If you want to be a bit nostalgic and have a Disney item for your little one, then I suggest this one for sure. Right now Walmart.ca has the Disney Baby Star Soothers on clearance sale for an excellent price. You can choose between Simba or Dumbo for just $25 each, which is a much more appealing price than their original price of $53-$65. Walmart Canada has a few different options for shipping as well.
There are two different Disney Baby Star Soothers available for this awesome price right now. You can choose between the Disney Simba Baby Star Soothers or the Disney Baby Dumbo The Elephant Star Soothers. Both are priced at $24.97. Dumbo the Elephant is a better discount since he was regularly priced at $64.97. Disney Simba was originally $52.97. Either way, for $25 you should snag one of these adorable items. You won't find a better price elsewhere, that is for sure.
Out of the two options, I would have to say I would pick Simba. They are both adorable but I have always had a soft spot for The Lion King. Disney Baby Dumbo has better reviews though, so take your pick. Either one of these adorable characters will transform your child's room into a starry sky to help them fall asleep. I would tell my son to count the stars instead of counting sheep until he falls asleep. What about you? These star soothers even have an on/off switch that will match their personality. There is a 45 minute timer though, so if you forget to turn the soother off it is no big deal. It runs on 3 AAA batteries which appear to be included.
When it comes to receiving your item, the best option of course is to spend $50 to get free shipping right to your home. If you only plan on buying one of the Disney Star Soothers and nothing else, then you will want to have your item shipped to your local Canada Post Office or Grab & Go locker for free. The Grab & Go lockers are situated within select Walmart locations, but this option seems to be slowly spreading across Canada which is great. At first they only offers this in the Greater Toronto Area.
(Expiry: Unknown)