Costco Canada: $130 Off Frozen Concoction Maker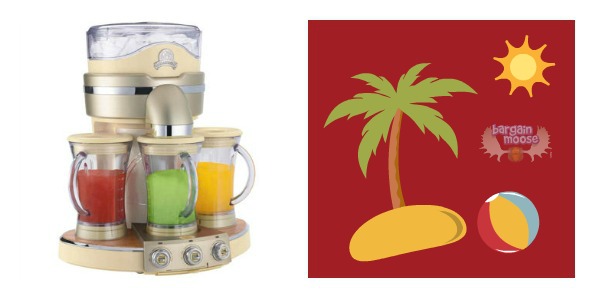 This fun gift has to be at the top of anyone's list! Costco Canada is offering $130 off the price of the Margaritaville Tahiti Frozen Concoction Maker, until December 16th.
Regularly $479, get it for only $349 including shipping. What a great addition to anyone's bar! Pretend you are south during the heavy winter months, while drinking margaritas and other frozen drinks in the comfort of your own home.
Made of premium bamboo and polished stainless steel with heavy duty die cast components, you can make virtually any frozen drink with this machine. From smoothies to daiquiris and of course margaritas, there is something for everyone. With three 24 fl. oz blending jars, you can mix three different drinks at the same time. Six fully automatic drink settings let you mix the drinks without having to put on your thinking cap, leaving you time to talk with your guest instead of figure out complicated instructions. The rotating ice chute moves from one blending station to another automatically.
If I saw this under my tree, I think I'd scream and start making drinks immediately. I'd use it for smoothies in the morning since I like mine with veggies, one of my sons likes it with fruit, and the other likes it plain with just bananas. For entertaining, I can never pick just one signature drink so I'd have three!
Shipping is included in the price.
Expires: 16th December 2012