Costco.ca: $50 Off Kidcraft Soho Townhouse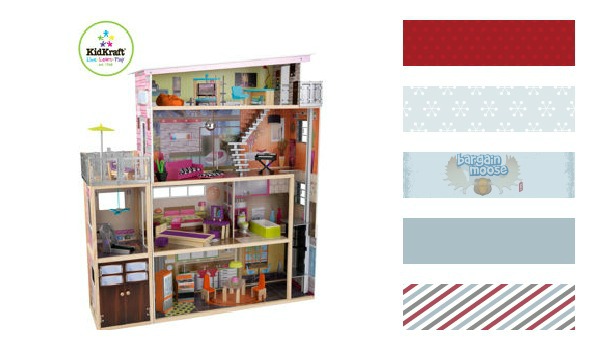 Costco has the Kidcraft Soho Townhouse $50 off right now, on sale for only $149.99 including shipping, until December 16th.
What child wouldn't love to see this amazing townhouse under the tree? They market these to little girls but I have two sons who love playing with their houses (even if they use their Avengers figures). This dollhouse is made of composite wood and measures 4 ft tall by 4 ft across, with four floors and seven rooms, so even multiple children can play with it.
With 25 detailed pieces of furniture including a disco ball chandelier, a piano that plays real music, lamps that light up with the touch of a button and a realistic sounding flush toilet, children can let their imaginations run wild with this awesome house. The elevator (I always wanted an elevator) moves through the floors, while the garage door opens and closes. If the dolls felt energetic enough they could also use the molded staircase. Two outdoor patio areas give the dolls lots of summer-time fun with friends and the wide windows let the dolls see out and the child to see in so they can move themselves around the house for different vantage points.
Shipping is included.
Expires: 16th December 2012