Canadian Cartel: Email Your Gift – Get $100 E-Card For $90 Or $50 E-Card For $45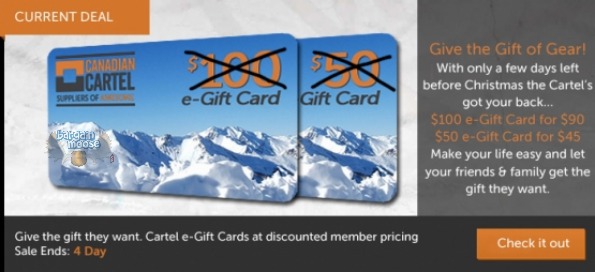 Canadian Cartel is offering e-gift cards at discounted member pricing.  You can get a $100 e-Gift card for $90 or a $50 e-Gift card for $45.  This offer will end on December 25th 2012.
With the countdown on for shopping, this is a great last minute gift idea.  Give an e-Gift card and let them get what they want.  Canadian Cartel has spectacular deals on all the time and if you know anyone into the sportswear, equipment or accessories available here, this is the perfect gift.
It's disappointing to get a gift for someone and find out it's the wrong size or colour or just plain wrong, but if you give them their choice, you can't go wrong.
Shipping: Free on purchases of $75 or more
(Expiry: 25th December 2012)