Body Candy: Up to 96% Off Jewellery & Extra 25% Off Coupon *HOT*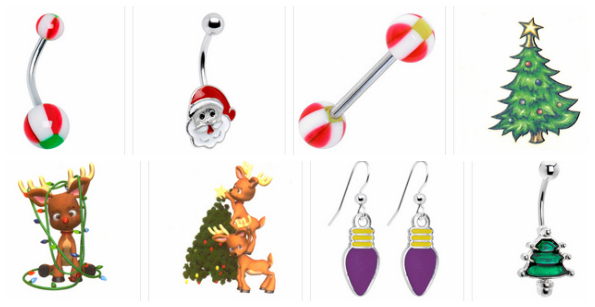 What makes the most perfect stocking stuffers? Jewellery. Body Candy (US) has the best selection of body jewellery at the most affordable prices. They carry belly rings, earrings, toe rings, barbells, ear plugs, tongue rings, nose rings, and more. Right now they are offering up to 96% off in their clearance section and they have a really hot coupon code for 25% off that combines with clearance prices.
Click here to shop the clearance section @ Body Candy (US) now
Coupon Code: 25OFF4U
Discount: extra 25% off
Expiry: 2nd November 2015
This is a very rare coupon as Body Candy usually offers 15% off coupons. This is the first time I have ever seen one so high. I thought, since our next big holiday is Christmas, I would focus in Christmas themed body jewellery. For those with a navel piercing, you can decorate your tummy with some fun seasonal rings. This Red INTERSECTION Belly Button Ring does not scream Christmas, but rather sports the standard red, white, and green colours. Originally $19.99, this belly ring is now only $0.99. After coupon, pay $0.75.
Personally, I like my Christmas a little jollier. This Holiday SANTA CLAUS Belly Button Ring was $25.95 and is now $0.99. It also comes down to 75 cents after coupon.
I am dying over the cuteness of some of these belly rings. This Holiday Christmas TREE Belly Button Ring and this Holiday Christmas PRESENT Belly Button Ring are the most adorable rings ever. each was $35.95 but are now $1.99 each and just $1.49 after coupon. I want that cute little present belly button ring.
So many people have their ears pierced that earrings can be a really safe and great gift. I wanted to point out a selection of four sets of earrings that are each on sale from $22.99 down to $1.99 each. After coupon code, pay $1.49 each set.
The Green Holiday Christmas Tree Earrings fails to state an original retail price, but I assume they were around the same.
For those with their tongue pierced, pick up an appropriately coloured barbell. The Red Acrylic Ball Cartilage Tragus Barbell and the Green Acrylic Ball Cartilage Tragus Barbell are on sale from $19.99 down to $1.99. Pay $1.49 after coupon.
You can even pick up a few things for the kids while you are shipping. These temporary holiday tattoos are just darling! They make great stocking stuffers too:
Originally $6.99 and on sale for $1.50, they come down to $1.13 each after coupon.
All prices are in USD. Shipping is super cheap: $2.99 for any order or free on orders of $19.99.
(Expiry: 2nd November 2015)