Adorable Egg Shapers Just $2.20 + Free Shipping @ eBay.ca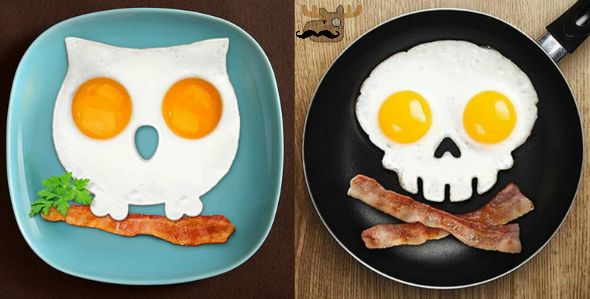 It is time to make breakfast a little more interesting with some adorable egg shapers. Shop at eBay.ca and you can snag these adorable Breakfast Silicone Shapers for just $2.20 each. You will even get totally free shipping.
When I first stumbled across the idea of these adorable shapers, it was a kitty mold that I had seen on Facebook. I was not able to find that exact egg ring, but I did find these adorable versions at an extremely affordable price. For just $2.20 per shaper, you can make your eggs into adorable bunnies, a skull & cross bones for Halloween or even an owl. I ordered all three for a grand total of $6.60 and I definitely won't complain, especially because shipping is included.
Halloween is just around the corner. While your house may already be decorated like mine, Halloween themed foods are great too. You can use the skull silicone mold to make pancakes or eggs with an adorable Halloween theme. This may be your new sure-fire way to get kids to eat eggs. Eggs are a great source of protein but not a lot of kids like to eat them. Let's change that with these adorable egg shapers. Save the bunny version for Easter pancakes even. The opportunities are wonderful.
These egg/pancake shapers are made of a silicone rubber that is non stick, so even clean up will be easy. By looking at pictures on Google I can tell you that some of the egg white is likely to leak out, but you can always cut it away for a neater edge with a butter knife. Have some fun and even use food colouring if you are making pancakes instead of eggs. I am excited to use my new egg molds, what about you?
So if you're looking to make your eggs "funny side up" then snag a few of these silicone egg shapers from eBay Canada now, while the price is right. Don't forget that this item even has free economy international shipping from Hong Kong. Your purchase will take between 17 and 31 business day to arrive.
(Expiry: Unknown)