Dealuxe Canada: Save up to 90% + 2 Coupon Codes
27 December 2011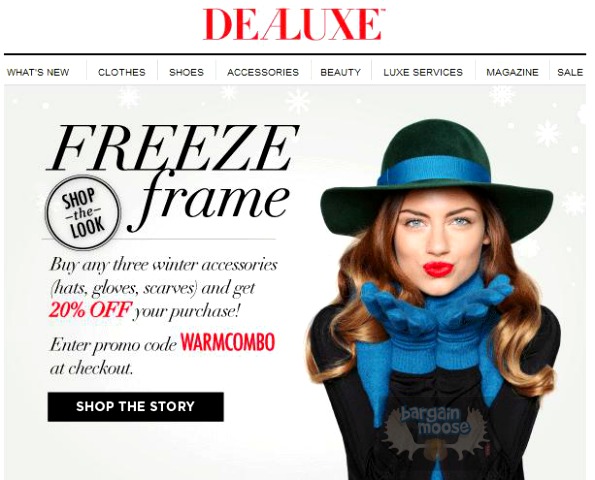 Dealuxe Canada has 2 coupon codes right now. The first one will save you 20% off your purchase of any 3 winter accessories. Dealuxe's sale section has items up to 70% off the original prices and the second coupon code will give you an additional 20% off of that!
Coupon #1:
Coupon Code: WARMCOMBO
Discount: 20% off 3 winter accessories
Expiry: Unknown
I can't find the expiry of this Dealuxe Canada coupon code so I am assuming it is on for a limited time only.  This coupon code includes all winter hats, scarves and mittens.  I like getting new colours of all 3 of these items every year because it changes your look when going out without having to buy a new coat, which can be very costly.
The second coupon code is a really good one!  Save an extra 20% on already reduced items up to 70% off, making the items up to 90% off!
Coupon #2
Coupon Code: BOXINGDAY
Discount: 20% off sale items
Expiry: Unknown
Check out their 3 tier sale section:
I had a look at their "up to 70% off" sale items and I am happily surprised with how many items were actually 70% off.  A lot of the time, stores say "up to 70% off" and then only put one item on for that price.  I counted 80 items on sale for 70% off and many more for either 50% or 25% off.  Items include everything from tops, dresses and skirts, to belts, bags and pants.  I did notice that some items were selling out fast so if you are interested in these sale items, get them while they are still there.
[Boxing Week dashboard]