5 Boxing Day Strategies to Save You Money
23 December 2014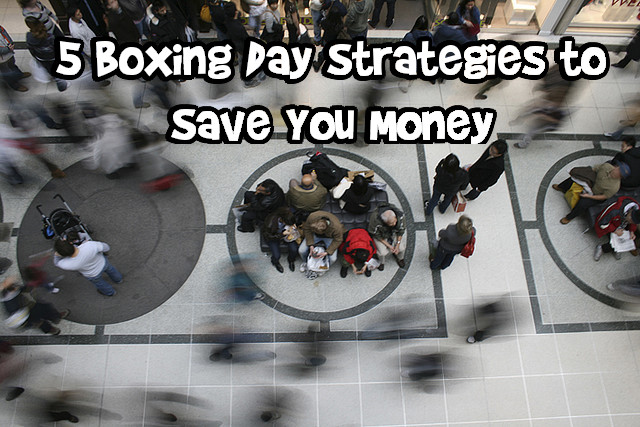 Boxing Day is a big day for most bargain hunters (not to mention Bargainmoosers) in Canada.  It is analogous to the American Black Friday where retailers have deep discounts on goods.  Thousands of shoppers brave the cold to line up in the middle of the night starting at 3:00 am at electronics stores like Best Buy or Future Shop just to be one of the first to get the door crashers.  I used to be an avid Boxing Day shopper and nowadays I just usually shop online or I avoid it altogether (because I know I will usually impulse buy and end up spending money on something that I don't really need nor will use).
Here are some Boxing Day strategies to save you money:
Focus on Lining Up Where it Counts
According to the Globe and Mail, the big ticket items where the biggest deals happen are usually electronics (such as television sets, which can be 40-50% off what you would normally pay), clothing and apparel, and home appliances (think fridges, dishwashers, washer and dryers).  Research beforehand what you want and need (make a list and check it twice).  Check out Bargainmoose regularly right before the 'big day' to make sure you scope out where the best deals are to be had.
Chatelaine says that another place to focus your shopping is on seasonal goods.  Just like how Halloween candy goes on sale on November 1, focus on buying Christmas cards, wrapping paper, Christmas trees or anything seasonal.  You will see steep discounts of at least 40-50% off and you can save these things to use next year.  Chatelaine also says to check online deal sites such as Bargainmoose for great bargains. We've got a very handy dashboard with all the most up-to-date deals during Boxing Week.
Shop Online
A lot of Boxing Day deals online start just after midnight on Christmas Day. One thing to make sure you do before you start clicking away is to register for the online shopping sites (e.g. if you are planning to buy on Futureshop online make sure you sign up for an account first) before you shop away.  This will save you time and frustration as sometimes there may be glitches such as the site freezing.  A few years ago I bought my Apple Macbook Pro online and saved a few hundred dollars, the same price that I would get by shopping in store at Future Shop.
Stick to a Budget
The most important way to save money on your Boxing Day shopping is probably sticking to a budget.  Have an idea of how much you want to spend (you know, to avoid post-holiday January credit card bills blues syndrome (PHJCCB syndrome)) so that you don't regret it afterwards.
Shop Beforehand
Another way to save money (and time and energy) on Boxing Day is to shop BEFORE boxing day.  Gail Vaz Oxlade bought something at Best Buy about two weeks before Boxing Day and was able to save on her purchase by getting money credited to her credit card simply by bringing the receipt into the store.  She took advantage of the fact that companies like Best Buy match their prices to competitors within 30 days of purchase and they also match the sale price (if you find the item you bought on sale within 30 days of purchase).  Check with your retailer to see what their rules are.
Gear Up
Finally, bring a bottle of water, bring one friend (because too many will be inefficient), dress comfortably with good walking shoes that you can take on or off easily, wear a small tank underneath your coat so that you can slip sweaters on without having to line up in the dressing room and even leggings so you can slip pants on without having to line up.  Also, try and go shopping where there isn't a mall if you can help it to avoid the anger you may experience at trying to find a parking spot!
Bargainmoosers, what are your Boxing Day strategies?  What was your best Boxing Day deal ever?