Zinio Canada: 5 Issues Of Amateur Photographer For $7.45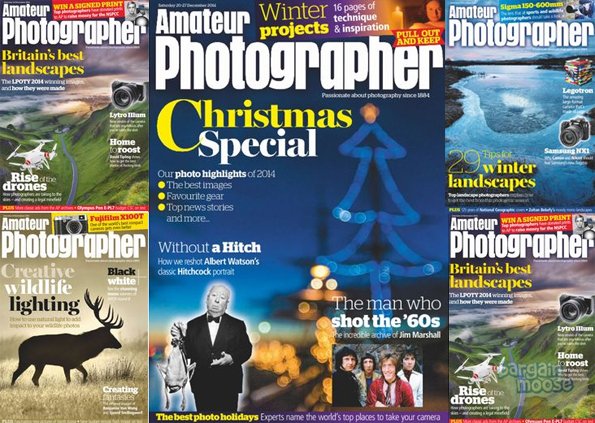 Amateur Photographer is a specialist magazine containing photography news, events, tips & techniques, darkroom advice, equipment tests, and more. And just now, there's a special offer on a digital subscription, via the magazine service, Zinio.com. You can subscribe to five issues of this magazine for only $7.45 – that's $1.49 per issue.
If you are buying one issue alone through Zinio, the cover price is $5.95, so $7.45 for 5 issues is really excellent. It's hard for me to properly price compare this deal as I am not out at the store looking at a newsstand right now. But I had a look online and I can see that on the iTunes app store, each issue of this magazine would be $2.99 to buy, standalone. And Margarita found a site online showing that the magazine is £3.75 in the UK to buy in-store, which translates to about $6.80 per issue!
If you're not sure what the technical specification of your device needs to be, or what devices you can use Zinio on, please have a read of their help pages. We want to make sure that you don't buy something you cannot use. But you should be able to use this Zinio subscription on various iPads and Android tablets.
If anyone got a new digital SLR camera for Christmas, this magazine would be a great read. I got my first DSLR about 3 years ago, for a Christmas gift. I will admit that I did not know much about photography at all… basically I just pointed and clicked. Shortly after, I subscribed to a photography magazine… it wasn't Amateur Photographer, but I cannot remember exactly which one it was.
Anyway, I found that much of the magazine's content was quite technical and a little out of my potentiality. But, I did find that the magazine taught me quite a lot of basic photography principles which I still use to this very day. For example: the rule of thirds. I hadn't heard of that before. When composing a photograph (particularly in landscape photography), it's a guideline about breaking up your photo with the horizon, so your landscape shows in thirds. I've used this rule many times in taking excellent landscape shots.
I've picked up many more tips from the subscription that I had… I recommend you do the same. :)
(Expiry: Unknown)