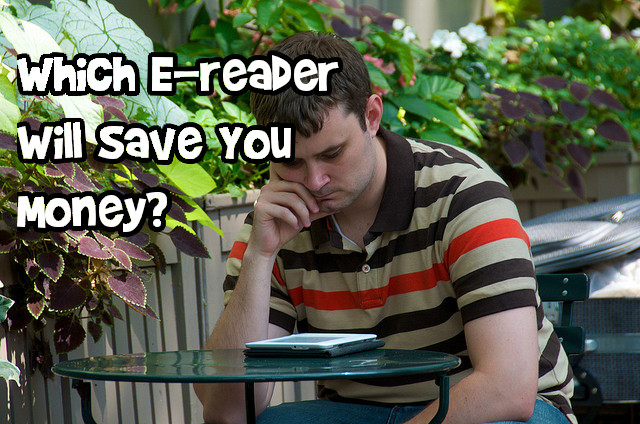 With technology so quickly changing and our environmental awareness increasing, typical books are fast becoming a thing of the past with the new-fangled e-readers out there.  Personally, I have not yet made the leap from actual books to e-reader books, but I do have a Kindle app in my Apple iPad which has fared quite well for me so far.  However, sometimes the glare of the books gets to me (e.g., gives me eye strain) and sometimes it's hard to read at night from the bright background light.  It's also very heavy compared to some of the e-readers that my friends have.  I am sort of in the market for an e-reader and thought it might be a good idea to share my decision making process, should I take the plunge that many others have already taken, and actually get an e-reader.
Why an e-reader?
There are a few reasons why more and more people are taking the plunge and getting an e-reader:
One look at what e-ink looks like makes my eyes widen in amazement.  E-ink is very easy on the eyes and there is no glare, and your eyes just feel comfy reading the e-reader page.    You will need an external light source (e.g., a bedside table lamp) for reading in the dark with e-ink (hey, just like regular books!)
E-readers are nice and light, small and portable, and can easily fit into a purse. My iPad on the other hand, cannot fit into my purse and is very heavy especially in the keyboard cover that I put it in
Unless you like to have a bookshelf full of books so that you can appear well-read when your friends come over, less book clutter means well, less clutter.  And that's usually a good thing
Usually when you download books (e.g. when you purchase a book) the e-reader price is more economical than the actual book price... plus you get to save money on shipping costs
Some e-readers with e-ink have a long battery life, of up to 70 hours of reading time.  This is much longer than the typical iPad.
As you can see, there are many "pros" as to why one would want to take the online purchasing plunge through buying an online e-reader.  Low impact, easy to use, and pretty intuitive to use.
How much to e-readers generally cost?
The price of e-readers vary, some have tablet functionality, some are just strictly e-readers.   In general, expect to pay anywhere from $80 to $130 for an e-reader with e-ink.  However, prices are much higher if you are buying a tablet-type e-reader.
For more information, check out this handy eBay article on how to save money on an e-reader.
Although the prices seems generally quite stable, there are some discounts, for example, during Boxing Week.
Which e-reader will save you money in the long run?
There are a number of e-readers in the "less than $100" category, including Sony e-reader, Kobo, and the Kindle with the 6" display and e-ink screen.  Also, the Barnes and Noble Nook is another contender this year.
The e-reader that may save you money in the long run is an e-reader compatible with your local Canadian Public Library.  Yes, that means borrowing books without having to leave the comfort of your own home, and borrowing them on your e-reader.
These include:
Sony Reader
Kobo e-readers
Other devices (such as Kindle), but you will have to download the Overdrive app (which is free to download) in order to download ebooks for free at the Canadian Public Library)
Unfortunately, Kindle devices can only download library books from the United States Public Libraries, therefore a Kindle e-reader was out of the options for me.  You can check out this handy list from Overdrive to see which e-reader will work with the Canadian Public Libraries.  There is a handy PDF chart on e-readers from the Vancouver Public Library website which allows you to see what e-readers would be best for you.   Some of the e-readers allow you direct downloading privileges from the library.
Bargainmoosers, do you have an e-reader?  Which one is your favourite e-reader so far?
Photo credit: Ed Yourdon