WHAT!? Pre-Order Harry Potter and the Cursed Child (Parts I & II) for $24 @ Amazon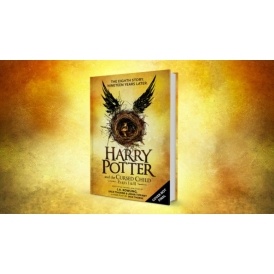 About 19 years after the first book, J.K. Rowling has just launched the Harry Potter and the Cursed Child Parts I and II. This Special Rehearsal Edition is now available for pre-order at Amazon.ca! You can even snag it 40% off - so you will pay just $23.99 including shipping if you spend over $25. I am SO excited to get my mitts on this book, it isn't even funny.

In this Harry Potter script, Harry Potter is now an overworked employee of the Ministry of Magic. He is a husband to Hermione and has three kids that are school-age. It kind of feels like the book grew up with me. I read the earlier books back when I was in school. At that time Harry Potter was in school too. Now, he is working with kids and so am I! That is pretty cool.
This book is said to receive its world premiere in London's West End on the 31st of July, 2016 - so we still have some time to wait before we can read it. I am so, so excited though. I honestly didn't think another Harry Potter book would ever come.
This book is being shared allover Facebook, and in case you didn't know where to pre-order... now you know! The 8th story will be officially out on July 31st, 2016 but you can bet that it will be sold out everywhere for quite some time. Get your hands on it now before you regret passing by this offer.
So, how do you feel about The Eighth Story being released 19 years later? Are you super excited for this one?
(Expiry: Unknown)