Striped Stoneware Pitcher Was $35 | Now $14.50 (FS @ $25) @ Chapters Indigo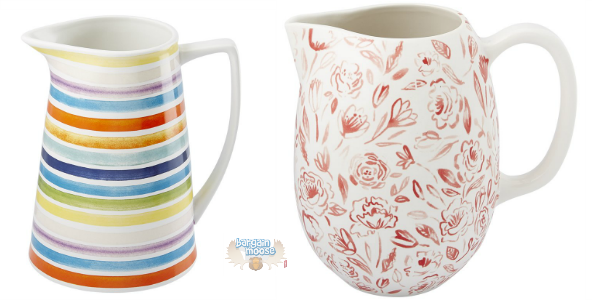 The striped pitcher is on sale with 58% off right now @ Chapters Indigo Canada. This cheery pitcher was $35, but is now on sale for only $14.50.
I love the colourful look of this stoneware pitcher. The bright colours remind me of sunshine, flowers and lemonade on the patio. This compact pitcher would be perfect for your first backyard BBQ of the season, or would be a beautiful addition when you plan to invite me over for homemade brunch. Stoneware is versatile, durable and looks so much prettier than a cheapie plastic pitcher on your table. I also appreciate that you can put this pitcher in the dishwasher.
This pitcher is on the smaller side. It is 7.8 inches tall and holds 32 ounces. A pitcher of this size is perfect for juice or stronger cocktails. Chapters Indigo also suggests that you could put flowers in this pitcher. This would look simply darling full of daisies or with a mixed bouquet on your kitchen counter. I think this would be a beautiful gift for Mother's Day, though I would add flowers to complete the gift.
Price Comparison
A comparable stoneware pitcher might be the Maxwell & Williams Sprinkle Collection Pitcher And Tray Set @ Bed Bath and Beyond for $33.99. If you prefer name brand, another version of this pitcher might be this blue stoneware Le Creuset Stoneware Pitcher that is on sale for $53.83 @ Amazon.ca. It is difficult to find items that compare online. I do not see many pitchers on the internet that are made of stoneware but have often seen them on a shelf in higher end home stores.
Shipping
Shipping is free is you spend a minimum of $25 @ Chapters Indigo. You can also ship this item to a store near you for pickup for free shipping. If you choose to order only this item, shipping is only $5 when I add the item to my cart and checkout.
If you are thinking about a few items to top off your cart, there are several other pitchers on sale also. Perhaps you can pick one out for yourself and one for your mom. The Pink Leaf pitcher was $29, but is now only $14.50. This pitcher is also made of stoneware and holds 54 ounces. If you wanted an alternative that holds more lemonade, this would be a good buy.
Another great option is the Concentric Pitcher that was $35, but is now $14.50. This pitcher is also made of stoneware and is available in black. I like the textured ribbed design. Some bright coloured flowers would look beautiful in this pitcher. This one is even bigger holding 63.2 ounces, and I like the tall and slim design.
I would grab one or several of these pitchers now. The good items in the Chapters Indigo sale section never seem to last long with their great shipping rates. Now I just need to figure out the perfect place for my new cheery pitcher.
(Expiry: Unknown)