Loulou 1 Year Membership From $12.99 + FREE VIP SPC Card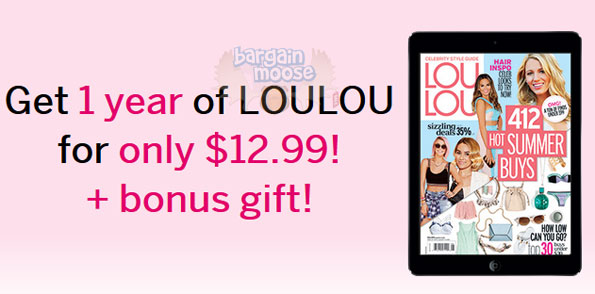 Love Loulou? Love shopping? Then combine both by getting a subscription to Loulou magazine from $12.99 and get a bonus free SPC card as a gift.
An SPC card usually costs $12, so that's essentially how much you'll be saving! Plus, the subscription to Loulou magazine is also cheaper by around $1-2 than we have seen it in the past.With regards to the Loulou subscription, you have the choice between either:
$12.99 for 8 digital issues
$16.99 for 8 print issues
Both of these are a yearly membership as Loulou doesn't send out their magazine on a monthly basis per se. Personally, I prefer reading print magazines and I wouldn't mind paying a couple of extra bucks for this convenience, especially since once I'm done reading it, I could just store it in the bathroom for guests to read during their business. By subscribing to the print editions, then what's cool is that you will also get unlimited access to LoulouMagazine.com, which hold plenty of helpful tips on fashion and make-up.
The Loulou magazine subscription aside, the best part about this offer is definitely the bonus gift: a Loulou VIP SPC card. I used to have the student SPC card way back when and since I couldn't remember how much it usually costs, I had a look on their official site and found it for $12.
SPC cards are accepted in so many stores now that nearly anywhere you shop, you could use it to get a discount on your order. Check out a full list of stores on SPC Card's site, but to name a few, you could save money at: Aldo, Access, American Apparel, Ardene, Bench, Baskin Robbins, Boston Pizza, Burger King, Forever 21, Gap, Guess, McDonald's, Pizza Hut, and so many more. The best part is that the money you save at these stores will essentially pay for your membership and save you even more money! Meanwhile, you will also be enjoying reading the Loulou magazine -- win-win! :P
(Expiry: 31st December 2015)