Lonely Planet Coupon Code: Get 50% Off Site-Wide!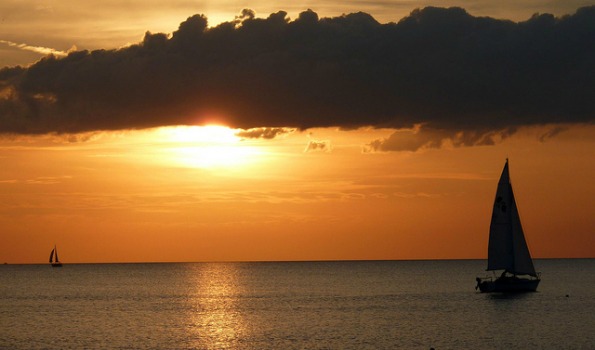 Winter always has me dreaming about all the fantastic places in the world I want to visit. Right now, you can start planning your trip and get 50% off cover prices @ Lonely Planet. Lonely Planet offers most of their guidebooks in e-book format, which means you will not have to worry about shipping. If you prefer a hard copy, you can receive free Canadian shipping automatically if your order is over $40.
Click here to use the Lonely Planet coupon code online now
Coupon Code: SECRET50
Discount: 50% off cover prices
Expires: 23rd January 2015
Now folks, this coupon code does get a little awkward, so let's make sure we understand what is happening in the shopping cart before you purchase. The 50% off discount applies to the recommended retail price, not the sale price. The recommended retail price is the original price before any sales or discounts are applied. The good news is 50% off is more than the discount currently being offered as a sale price. If you are intrigued, try popping a book into your cart with the coupon code and you will quickly see what I mean.
Where you really score a deal here is if you order guidebooks in e-book format. No shipping is necessary so that means you have no minimum for this sale. eBooks are available in PDF, EPUB and MOBI formats. That easily covers Kindles, Kobos, Android Devices, Apple Devices and more. I usually read most of my e-books on my iPhone using the free iBooks app and I typically download the ePub format as a personal preference. I've noticed ePub has a lot of compatibility with iBooks to use all of the features of the program such as bookmarks, writing notes, definitions available within text for unfamiliar words, highlighting, etc.
If you prefer a hard copy there is free shipping available if you spend a minimum of $40. I find that with this sale you have to buy quite a few books to reach that $40 minimum. The good news is if you do a combination of eBooks and hard copy books, the eBook prices will apply towards your $40 to qualify for free shipping. If you are thinking about mixing and matching between eBook and paper copies, you are in luck. Look at my shopping cart below and you will see all the books I picked up are eBooks except one inexpensive paper copy. I am over the $40 minimum on my total order and now qualify for free shipping.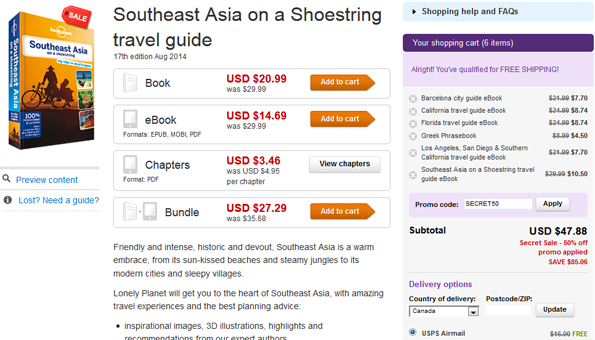 The hard copy books seem to ship from the US. Buyer beware, you may be charged duties upon delivery as they do not clarify on their site. If you opt for the free shipping it takes anywhere from 1 to 4 weeks! If you are digging eBooks, I think that is the way to go on this deal to get the best value for your money.
I am noticing a few guidebooks in eBook format I might be interested in snagging before my next vacation. There is both a Florida (was $24.99 now $8.74) and Miami and The Keys (was $21.99 now $7.70) guidebook, which is a hot location for an inexpensive tropical vacation and could give me some great insider tips on my next trip. Cuba is another hot location for a fabulous vacation on the cheap. The Cuba travel guide was $24.99 but is now $8.74. I would also be interested in this Europe On A Shoestring guidebook which was $29.99 but is now $10.50. I have been meaning to plan a European holiday but still need to save a little more cash first.
Bargainmoosers, where are you looking forward to traveling for your next holiday?
(Image Credit: ashabot)
(Expiry: 23rd January 2015)