KoboBooks.com: Week 2 - 50% Off One of Nine Collected Editions!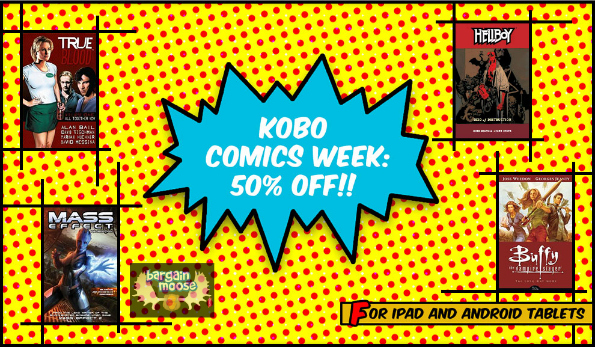 This sale looks familiar, doesn't it? Well, it's because Kobo Canada had so much fun giving you half off these comics last week they decided to extend it by a whole other week!
OM NOM COMICS!
Discount: 50% off one of of nine Collected Editions
Coupon code: comics50
Expiry: 17th November 2012
These are the nine comics you can pick from:
There are a lot of good comics here. I would specifically point to Locke and Key, Hellboy and Conan. They even have two vampire based comics available for those who are so inclined. Star Trek AND Star Wars in the same sale? Mmmhmm. Any Doctor Who fans out there? Of course there are! Get some Doctor Who goodness for les than $4.
These are all for the Kobo Android and iPad apps and each of the comics are collected editions.
The Bargainmoose coupon code section has more Kobo Books promo codes than you can shake a stereotypically greasy comic book nerd at!
(Expires: 17th November 2012)