Kid's Educational Magazine Subscription Deals @ YesMag: Save 40%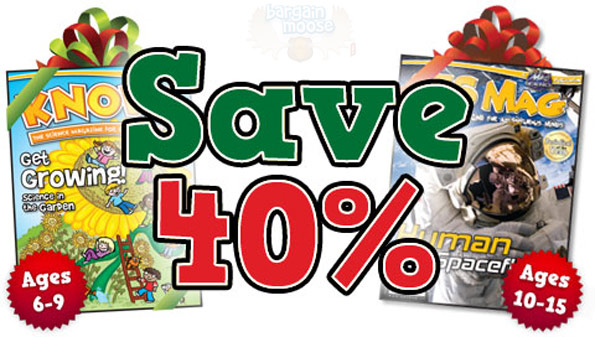 This deal is for the award-winning science magazines for kids, Know, and Yes Mag. There's a special offer happening just now, with 40% off the cost of all subscriptions!
You can choose from the KNOW magazine (for ages 6 to 9) and YES Mag (for ages 10 to 15).
Here is the cost breakdown:
1 year = $24.95 $14.97
2 year = $42.95 $25.77
That's with free shipping! You have to pay tax on top of that figure, so that will depend where you are.
Dave, the site owner, actually emailed us about this offer and I would like to let you hear a few words from him:
Fifteen years ago, my wife and I started YES Mag, a science magazine for ages 10-15. Six years ago, we started a younger magazine, KNOW, for ages 6 to 9. For the first time in 15 years we are having a sale. Until Nov 23, subscriptions are 40% off.
Thanks Dave!
I'll be honest - this is the kind of magazine I'll be encouraging my little girl to read as she gets older. I LOVED this kind of thing as I was growing up, so I hope to encourage the same in my little one(s). For example, Know has discoveries, experiments, projects, Q&A, even a comic. I'm really going to have fun doing this with my DD later in life. :)
(Ends 23rd November 2011)