Insect Lore Live Ant Hill Was $20 | Now $6 + Free Shipping @ Chapters Indigo Canada (EXPIRED)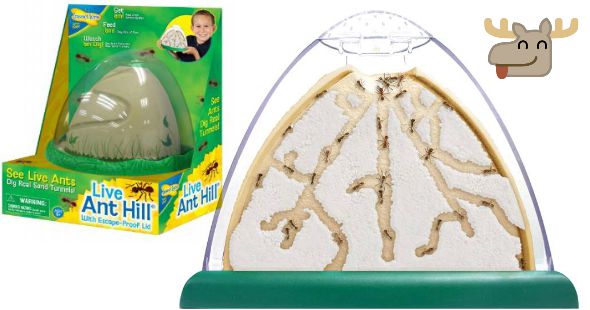 Do you have a kid that loves bugs? Chapters Indigo Canada has this Insect Lore Live Ant Hill on sale for a great price, and kids who are into nature and insects will just adore it. The Insect Lore Live Ant Hill was originally $19.95 but is now on sale for just $5.50. On top of the already low price, you will receive free shipping on this item as well.
The way that ants build their ant hills is amazing, but since they always build them underground we rarely get to see their amazing tunnels and chambers. Now you can! Just snag this Insect Lore Live Ant Hill from Chapters Indigo Canada which is on sale for 72% off the regular price and you and your kiddo can be amazed by an imitated ant hill that looks real.  You can even have real ants inside to build their own tunnels and chambers.
For just $5.50 you will get this live ant hill with a double sided viewing habitat, easy dig sand, and a safe escape-proof locking lid.  This ant hill kit compares at $21 @ Amazon.ca. It also comes with a certificate to receive 25 harvester ants by mail for $5 USD but reviews have said that they often don't survive the shipment. I best suggest you catch some black ants from the garden or something along those lines.
The kids will love watching the ants design hills, tunnels, chambers, forage for food, excavate sand and solve problems between their colony. The special "easy-dig" sand will make it quick and easy for your ants to build their new home, and the kids won't get impatient. This kit is best suited for kids between the ages of six and ten because it does require a gentle hand, patience and good care.
Chapters.Indigo.ca is also offering free shipping on all orders with no minimum purchase right now which is pretty crazy. That means you can snag items like this, for a low price, and not pay a cent extra to have it shipped right to your doorstep. This item is currently on sale and in stock both online and in stores at Chapters Indigo Canada.
(Expiry: 9th September 2015)