Google Play Store: Up to 90% Off Heroine Comics - Now $2.99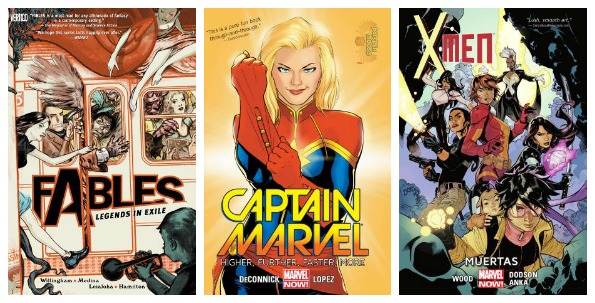 The Google Play store has a fantastic deal on digital comics. The selection is called "Heroines Who Rule" and features leading ladies from Marvel, DC, and other labels. These digital comics are up to 90% off their usual prices, which means this is a fantastic time to indulge in a new or old favourite.
Some of you may have heard of The Sandman series by Neil Gaiman. It is a legendary graphic novel series that really threw Mr. Gaiman into the spotlight. The Sandman, as you might expect, is primarily about Dream. However, Dream has several siblings, my favourite being Death. Death: The Deluxe Edition is on sale from $30.97 down to just $2.99. This is 324-pages featuring Death in all her glory. You will find beautiful, heartfelt stories and musings about the meaning of life, love, and death. This is my 'must buy' pick of the sale.
There are so many good choices that I hardly know where to start. The cover for Captain Marvel Vol. 1: Higher, Further, Faster, More really catches my eye, probably because I could totally cos-play her. This volume - 136 pages - is on sale from $18.35 down to $2.99. I do not know much about Captain Marvel, except she looks gorgeous, badass, and sassy... and this is a great price. Volume one collects comics #1 through #6.
Fables has always been a favourite series of mine - one I have long debated buying but never have. I am attracted to the art of Fables, no matter what volume I read, the art is out of this world beautiful. The colours are also gorgeous - it feels like an old fairy tale. Purchase Fables Vol. 1: Legends in Exile: Volume 1 on sale from $10.32 down to $2.99.
While Death is the best deal of the sale, there are many other volumes of comics on sale from around $15 - $18 marked down to $2.99. I found several X-Men volumes like X-Men Vol. 2: Muertas that was $18.35 and is now $2.99. While X-Men is more of a team, these comic books feature strong leading ladies. You can also find some inspired by TV comic collections like Buffy: Season Ten Volume 1 : New Rules that was $15.99 and is now $2.99
I am incredibly impressed with this sale and happy to be posting about it. I would love to hear comic recommendations from our Moosers, so please comment below!
(Expiry: Unknown)