Google Play: Marvel Avengers Comic Book Sale Up to 80% Off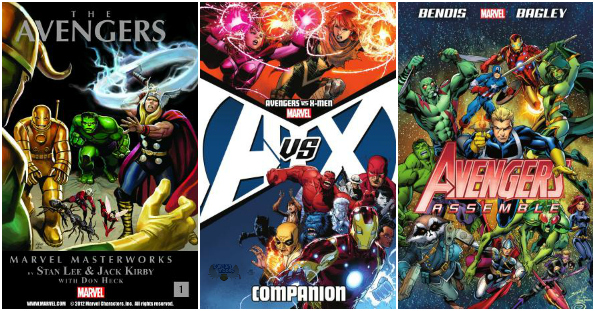 I am loving these Google Play comic deals. This time around there is an up to 80% off Avengers comics sale. You can figure out why, pretty soon the new Avengers II movie is going to be out! Check out a few back-stories, side stories, and more via this sale.
I am not sure what is up with Google play, but the official 'sale' page only has nine comics in it. However, a quick search for Avengers on the Google Play store revealed well over 100 comics and comic collections on sale. You really need to check out the 'all sale' link.
Let us talk about some of the fantastic deals in this sale. The New Avengers Vol. 1: Everything Dies was $25.48 and is now on sale for $5.09. I have to say that title is rather ominous, but readers seem to like it. As one reviewer says:
Very solid TPB. Read went very quick. Not a knock against it, more of a compliment. Would make a good movie.
If your appetite was wet in Guardians of The Galaxy, get your fill of Thanos in Avengers Vs. Thanos: Volume 1. Originally $25.48, the comic book is also on sale for $5.09. This volume collects comics from different series and different time periods. The volume includes:
Iron Man (1968) #55
Captain Marvel (1968) #25-30
Marvel Feature (1971) #12
Daredevil (1964) #105-107
Captain Marvel (1968) #31-33
Avengers (1963) #125
Warlock (1972) #9-11
Avengers Annual (1967) #7
Marvel Two -In-One Annual #2
and material from Logan's Run #6
Seriously, that is a lot of comics for just over $5. All of these comics feature Thanos as the villain - so they fit together well in the volume. I have to say, I prefer Ronan over Thanos.
If Stan Lee is your idol, then check out his Avengers Masterworks Vol. 1 with Jack Kirby. These two are comic book legends (I need not tell you), and now is an excellent time to get your hands on a fantastic comic book. Originally $17.33, the book is on sale for $5.09.
There are many additional comics in this sale. Prices start at just a few dollars and go up to around $50 like this Avengers Vs. X-Men Companion that was $101.97 and is now $47.72. This massive volume of comics features some of the best stories ever according to some reviewers.
(Expiry: Unknown)