Free Upgrade To Ultra AVX @ Cineplex Canada (QC Only)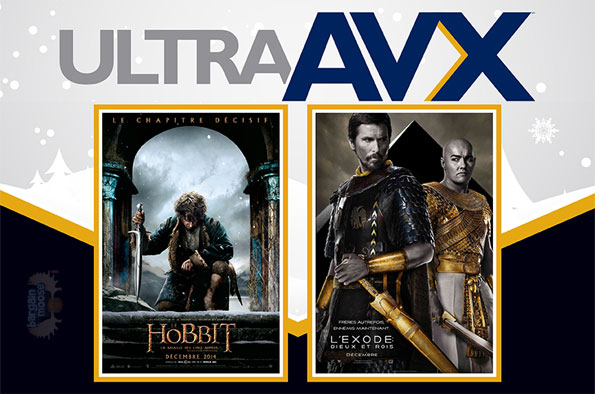 Quebecers rejoice: you can upgrade a regular admission ticket to an Ultra AVX one for free until the end of the month at Cineplex! Only for Quebec residents.
Quebec is so often excluded from promotions and freebies that I can never pass up blogging about a great Cineplex freebie!
Once you click on the link above, it's very easy to redeem this promotion but the only hitch is that the page is only available in French. To get it, just scroll down on Cineplex's promotional page, like Cineplex on Facebook and enter your e-mail address in the provided field. Once you click on "Obtenez votre bonification gratuite", you will then be provided with a one-time coupon code that you can use when purchasing your tickets on Cineplex.com.
It's much better to purchase tickets online anyways because of the bonus SCENE points. In case you didn't know, every trip to the movies awards you with 100 Scene points and you get 20 extra points just by buying them online. Once you reach 1,000 Scene points, then you get a free movie in any format, whether regular, Ultra AVX or Imax! Sign-up to the Scene membership is absolutely free as well.
There are plenty of really awesome movies playing right now. The Hunger Games: Mockingjay Part 1 is finally out and although it hasn't generated outstanding reviews, it's still worth watching for the story, especially if you have already watched the previous ones. Big Hero 6 and Dumb and Dumber To are highly popular right now as well, especially for watching with kids but if you're looking for a truly amazing movie to watch, then Interstellar is the way to go. Although I haven't watched it myself yet, my hubby has highly praised it for being intellectually stimulating and offering a new perspective on life.
Upcoming movies worth watching are Exodus: God and Kids and The Hobbit: The Battle of the Five Armies.
This promotion is set to end at the end of the month but if you're looking to watch more than one movie this month, then it's definitely worth trying to redeem several times with different e-mail addressees. No promises on it working, but make sure to let us know if it works for you!
(Expiry: 31st December 2014)