Entertainment Book: Free 2010 With 2011 Purchase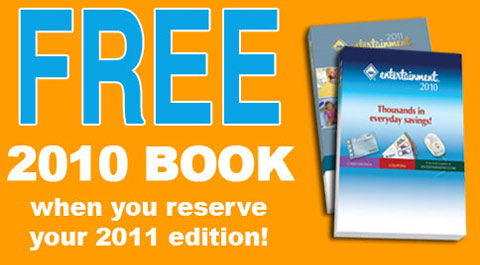 Here's the latest deal on The Entertainment Book Canada. If you pre-order the 2011 book now, they will also give you a free copy of the current edition, the 2010 book.
Just as an example, the 2011 Entertainment books are $30-$45 depending on your location, and you will get the 2010 book totally free right now.
The 2010 Entertainment Book has deals valid to the 1st of November 2010, so quite a few months to make use of it!
The Entertainment Book contains discounts on all these kinds of things:
Dining
Shopping
Movie Tickets
Groceries
Services
Travel
Attractions
Car Care
Home Furnishings
Prices on the site are shown in US dollars.