Cookbooks for Mom? Get Them for just $10 @ Indigo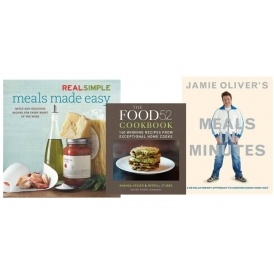 If you've got a mom in your life that loves cooking, or like me just loves cookbooks, check out the selection on sale for just $10 at Indigo right now! Books always make wonderful gifts, and at these prices you can grab something to add to your own collection too.
There are over 50 beautiful cookbooks available for $10 each, but if you're buying for a busy home cook who loves to be in the kitchen trying new recipes but doesn't have a lot of time (most of us?) then these three books are beautiful and cater to the home chef with limited time:
The Food 52 Cookbook—140 beautiful recipes and images curated from well-known website food52.com. This choice is 77% off.
Jamie's Meals In Minutes—everyone loves Jamie! His recipes are original and tasty and this is a selection that can all be prepared in 30 minute or less. This hardcover version is 80% off.
Real Simple: Meals Made Easy—a selection of top picks from the magazine of the same name, these are fresh, simple and totally doable recipes for weeknight dinners. This one is 78% of the regular price.
Shipping is free from Indigo on orders of $25 or more, so stock up on a few.
Do you know (or are you) a home chef that would love one of these lovely books for their collection?