Chapters Indigo: Le Creuset Salt Crock Was $50 | Now $35 & Free Shipping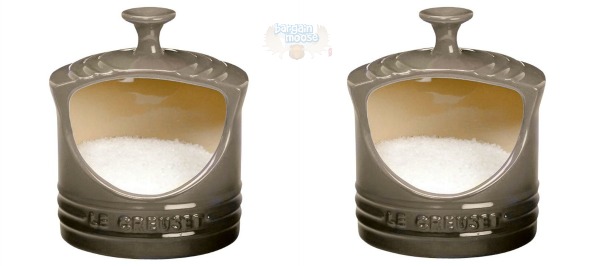 Chapters Indigo has discounted the Le Creuset Salt Crock from $50 down to $35. The salt crock is in 'truffle' sort of a greyish brown colour. As the crock costs over $25, it will also receive free shipping to your door.
Most my pots and pans are Le Creuset brand - pieces I have collected from sales. I have managed to buy almost everything in the Caribbean colourway, but I am willing to branch out if the price is right. I have wanted a salt crock for ages. Salt is equivalent to flavour. I add salt - good quality salt - to almost every dish I cook. Cooking with salt helps release flavours and make food taste better.
While I keep a salt grinder on top of the stove, I would like a little better access without having to use both hands. Sometimes I just want to lift up the lid and throw a smidgen of salt inside the pot. While salt crocks are a bit old fashioned - they are part of a traditional kitchen that I wish to keep.
When price compared to other companies in Canada, I was surprised. Chapters Canada has the best price by far. Here is what other retailers sell this salt crock for:
$65 + shipping @ Hudson's Bay Canada (white, red, blue)
$50 @ Amazon Canada (red, white, blue)
$50.22 + shipping @ Chefs Catalog (five colours)
I also wanted to point out that none of these companies have the truffle colour in stock. Usually, you can find the crock in the classic three colours: red, white, or blue. It sounds very American flag. Chapters Canada was the only retailer I could find with the truffle colourway.
There are several other 30% off Le Creuset deals on right now. This Jam Jar - Cherry is just darling and I could see putting it to good use. Originally $40, the jar is now $28.
For displaying goodies at a party or just on your dining room table, pick up the 3-Tier Stand in one of three available colours: cherry, flame, or soliel. Originally $100, this stand is now $70. For bakers, pick up the Pie Dish that was $60 and is now $42. Sadly, all the cute little pie birds are already sold out.
Le Creuset is a high-end cookware brand so I am always pleased when they have good deals. With Chapters Indigo's free shipping on $25, the deals are even better.
(Expiry: Unknown)