Chapters Indigo Canada: Buy 3, Get the 4th Free on Backpacks, Lunch Bags & More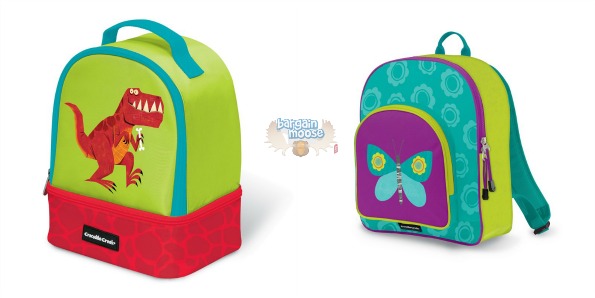 Chapters Indigo has a BOGO deal going where if you buy any three products from the Crocodile Creek back to school line, you'll get the fourth product free.
Before you go too far reading this post, I'll let you know that Crocodile Creek is most likely made for the youngest of students. I could see my kindergarten and preschool kids wearing this line, but any older, the backpack is too small and cutesy. I do, however, love it for the little ones. I recently bought my three-year-old a new backpack to school when he starts full time kindergarten in the fall. The backpack, which fit his brothers just fine, was swimming on him and looked ridiculous, plus he probably would have a hard time carrying it. I'll have to take it back and get him a much smaller pack. I also think he'd love something cutesy and I have to get that in before he grows out of it!
There are four lines available:
T-Rex
Fairy
Butterfly
Fire Truck
Within each line there are four items available:
backpack
water bottle
lunch bag
sticker book
While the sticker book is obviously the cheapest item in the list, you might want to shop for more than one child or double up on something to get your best value. For example, if you bought all four items from that list in the butterfly pattern, your savings would total $7.95. If instead you bought a backpack and lunch bag in the T-Rex for your son and a backpack and lunch bag in the fairies for your daughter, your savings would now be $14.95. Your best savings would be on four backpacks, which would be a $24.95 savings. So, if you love the backpacks and don't need anything else, maybe a friend would go in on this deal with you?
Another option is to get four water bottles, which are $9.95 each and you'd pay only $29.85 for four bottles.
Shipping is free on all orders over $25, so as long as you buy four items, your shipping will also be included. Unfortunately, you can't use the promo code I blogged about yesterday with this deal, as in the cart your items all discount, rather than showing three regular priced items and one free item.
(expiry: 2nd September 2014)