Chapters Canada: Hape Happy Grand Piano (Black) was $150 now $75 & Free Shipping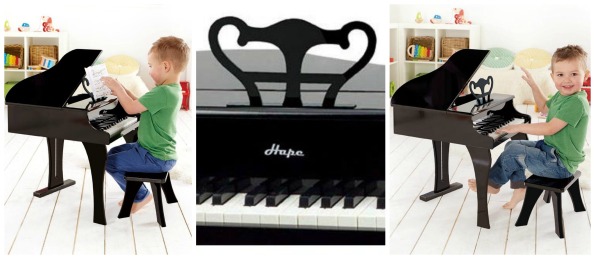 *Bump! This offer is back for an even better price!!*
Here's a great way to inspire any little musician in your home. The Hape Happy Grand Piano is on sale for a fab price right now at Chapters. For a limited time, you can get this adorable baby grand piano for just $99 $75 as opposed to paying the full price which was $149.95. You will also get free shipping!
The Hape Happy Grand Piano will not only entertain the kids, but it will also look adorable in a nursery or living room. This little piano is the real deal. It has 30 keys and it made of wood. It is perfectly made for small hands, but produces big, quality sounds. Plus, this is the lowest price I have ever seen on this perfect little item.
Here's a look at what this baby grand piano sells for at other Canadian retailers:
$246.16 @ Amazon.ca
$169.99 @ MastermindToys.com
$149.99 (on sale from $199.99) @ AllStarLearning.ca
I didn't see any reviews on the Chapters website, but I found plenty on Amazon.ca. There are good and poor reviews, so depending on what you want this piano for you may want to take a look. This piano seems to be best for children between the ages of 2 and 5, and it comes with straight forward instructions. There are plenty of sites online that will have free music sheets for the classic tunes that your kids will love to play. You probably remember playing songs like Chop Sticks when you were a kid, so why not share a nostalgic memory like that and teach your kids that song and more. There are many simple songs for kids of all ages to learn.
This piano is finished in a smooth, black paint that gives it a nice shine. It undeniably has a decent sound for a kids toy, although one review is a music teacher and he says that it could be better. I think this this piano would be sufficient for kids for sure. And lots of fun too!
Also keep in mind, if you pay with VISA Checkout you will get an additional 10% off your purchase. Chapters.Indigo.ca offers free standard shipping on all orders over $25, so you won't have to worry about any extra fees in that department.
Moosers, do you have a little musical prodigy in your home?
(Expiry: Unknown)