Chapters: 75% Off Quotables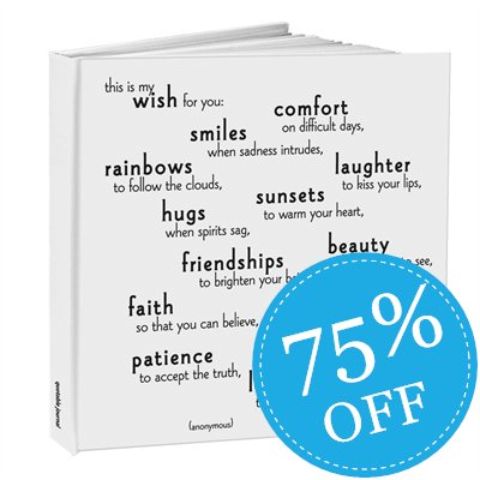 Chapters has Quotables on for 75% off. If you need some inspiring quotes, check out these items.
This 12 x 12 inch Go Confiendently canvas is just $7.50 (reg $29.99). The quote is "Go confidently in the direction of your dreams! Live the life you've imagined." by Thoreau.
If you are looking for a journal, these two 8x8 inch journals each have 200 pages. This is My Wish Journal and Life is Not Measured Journal are each $4.99 (reg. $19.95). How can you not be inspired reading this quote every time you open your journal?  The cover of This is My Wish Journal features this Anonymous quote:
This is my wish for you: Smiles when sadness intrudes, comfort on difficult days, rainbows to follow the clouds, sunsets to warm your heart, laughter to kiss your lips, hugs when spirits sag, friendship to brighten your being, beauty for your eyes to see, faith so that you can believe, confidence for when you doubt, courage to know yourself, patients to accept the truth, love to complete your life.
You can pick up this Quotable Tote bag for $6.99 (reg. $27.95). It comes in 4 variations - Go Confiently, Be the Change, Live With Intention and Life is not Measured.
Shipping is free over $25!