Book Outlet Canada: 50% off 50 Graphic Novels - Starting @ $1.19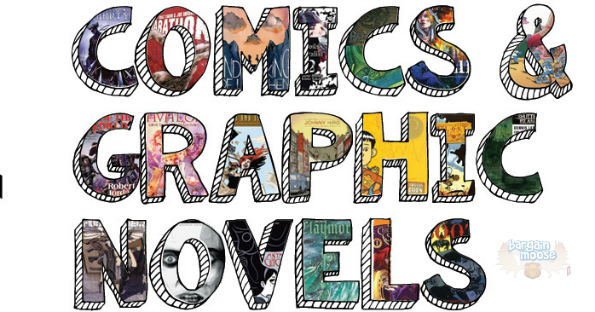 I usually do not post about the 50/50 sale at Book Outlet as I assume you all know it is there. However, graphic novels are my kryptonite people... I LIVE in graphic novels, manga, and cartoon treasuries. This week you can score some pretty awesome titles start at just $1.19 each (+ shipping).
Here are a few reasons why this sale is pretty spiffy. Comics, and especially graphic novels, are not easy to find cheap. They tend to be the books that do not go on sale. What I love most about graphic novels is the combination of art and writing. I am a very visual person, thus graphic novels feed my need.
Recommendations! First of all, Foxtrot is one of the gods of old-style cartooning. You know, when they used to put really cool comic strips in the newspaper and kids actually read that section (and knew what a newspaper was). I own the entire Foxtrot collection which includes Foxtrotius Maximus. Originally $18.99 for this omnibus, pay just $4.19. Now, if you do not own ANY Foxtrot then I recommend The Best of FoxTrot box set. This is a really gorgeous set of books with some of the best cartoons that Bill Amend ever drew. Originally $39.99, the set is on sale for $11.99. Amazon Canada sells the same set for $47.
I named my parent's dog after that comic.
The most popular graphic novels are always of superheroes doing extraordinary things. Who is more iconic in this day and age than Batman? Purchase Wayne of Gotham for just $2.99 (was $15.99). The same book costs $13.80 on Amazon Canada.
If you are a big fantasy fan, then pick up the graphic novel iterations of the Wheel of Time series by Jordan. A couple are included in this sale:
There is also a hardcover version of the second book. The first book is $18.59 at Amazon Canada and the second book is $13.98.
If I was to purchase a book purely based on its cover, then I would pick up The Lost Colony (Snodgrass Conspiracy, Bk. 1) originally $14.95 and now only $1.79.
Shipping is $3.99 plus $0.75 per book. Given that you are saving such a huge amount per book, the shipping cost is really offset by your savings.
(Expiry: unknown)