Bamboozlers & Great Minds Brainteasers 15% off with Valentine's Day Code @ Chapters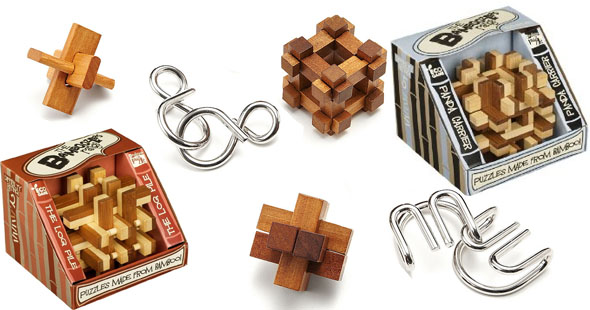 If you enjoy Sudoku or crosswords or other puzzle games, you have to try Bamboozlers or Great Minds puzzles. Through tonight, you can get them for 15% off at Chapters Indigo by using the code LOVE15.
These are like Rubik's Cubes on steroids. The Bamboozlers are my favourite - they're sturdy (which is handy as you may feel like throwing it across the room at times) as they're made from 100% bamboo. Chapters has seven of the puzzles in stock for $13 each. If you use LOVE15 at checkout, you'll pay $11.05. Buy a couple to get free shipping because they're addicting!
Essentially, you're taking the puzzles apart and trying to reassemble them but don't let that simplistic explanation fool you -- the Panda Carrier is very difficult! And check out the look of the Tropical Teaser. As a bonus, they look really neat on your desk or coffee table when (if) you've reassembled them!
Some of the Great Minds puzzles are a little bit different; each is a reflection of the great mind that inspired it. The best choice is the Great Minds 5 Pack as you're getting 5 different puzzles, including ones inspired by Benjamin Franklin's Kite and Thomas Edison's Light Filament. Priced at $23, you'll pay just $19.55 for the set of five.
I've loved brainteasers since I was young and I find little puzzles like this so maddeningly amusing. If you're the same, I think you'll enjoy these. Hint: if you get stuck, there are solutions online so you won't lose sleep! :)
Chapters ships orders over $25 for free so be sure to grab more than one! The promo code LOVE15 can be applied to a ton of full priced stuff throughout the site (except books, unfortunately) so if you need to top up your order, be sure to check out the rest of the eligible sections.
(Expires: 14th February 2016)