AwesomeBooks Coupons: 4 For 3 or 20% Off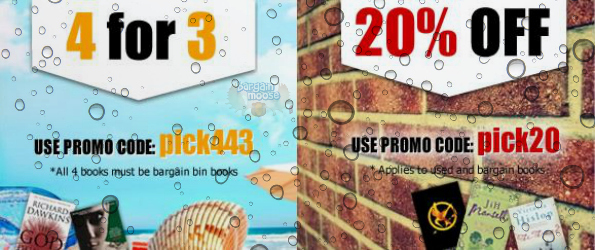 Awesome Books is a company out of the UK that has truly fabulous deals on books. Right now they have two really remarkable offers that I wanted to share, where you can get four books for the price of three or get 20% off your order. Enjoy free shipping when you order two or more books.
Click here to shop @ AwesomeBooks.com now
Coupon Code: pick443 (expired)
Discount: 4 For 3 Bargain Bin Books
Expiry: Unknown
Coupon Code: pick20 (expired)
Discount: 20% Off Bargain Bin or Used Books
Expiry: Unknown
The four books for the price of three offer is only on bargain bin books. However, the 20% off coupon can be used on bargain bin books and used books as well.
We don't often post about companies from overseas but once in a while I like to post about this company. Their free shipping to Canada on book orders of two or more is really worth its weight in gold, and with the school year coming up I often turn to book companies like these for my books. As I am an English major I am often reading old novels and books that I can get for pretty cheap from companies like AwesomeBooks. Since the book-lists for most universities are out now I welcome deals like these!