49% Off Zipfy Mini Luge Slow Sled was $40 now $20 @ Chapters.ca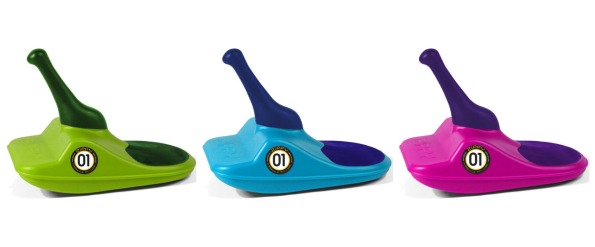 All the winter sales are happening just in time for the snow in most parts of Canada. Bring on the fun winter activities, like sliding with your little ones with these Zipfy Mini Luge Slow Sleds. On sale for $20, these were originally priced at $39.95. That's a 49% discount. The Zipfy sleds are  available in three colors: Blue On blue, Pink On Pink and Green on Green. This item is eligible for free shipping on your order over $25. It's a good excuse to grab yourself a new book to fulfill that $25 minimum.
The Zipfy sled is recommended for ages five and up and can actually hold up to 250lbs so it can be used by the whole family. The reviews from the Chapters website are all very positive, with a five-star average.
Since the Zipfy sled says it can be used by everyone, I wondered if it was actually big enough for adults to use. This Chapters Review answered my question:
I bought each of my children on of these for Christmas, they couldn't wait to try them out. They were great on the slope and the best part is the adults can play on them too... they are supper comfortable and I loved having the handle to hold onto!
I don't know about you, but sometimes I have to push myself to get outdoors during the winter. Sometimes it seems like by the time I get myself and my toddler dressed, I'm already tired. That all changes once I see the smile on my boy's face while we are out sliding. I end up feeling better too, getting fresh air and a little bit of sun. Sliding is the easiest way to get some exercise outdoors for us. Kids are happy sliding anywhere: down a hill in your yard or near the closest park. We are already all equipped for sliding, but for those of you who aren't yet, there's nothing like a cool new sled to get kids excited about spending time outside!
Free shipping at Chapters doesn't apply to all large items they carry, but thankfully this sled is eligible for free shipping over $25. If you purchase the sled, you're just $5 away from getting free shipping and there are lots of mugs and books to choose from at that price.
Moosers, what do you do to keep active during the winter?