Hatley Canada: Black Friday 30%-60% Off – No Code Needed
25 November 2012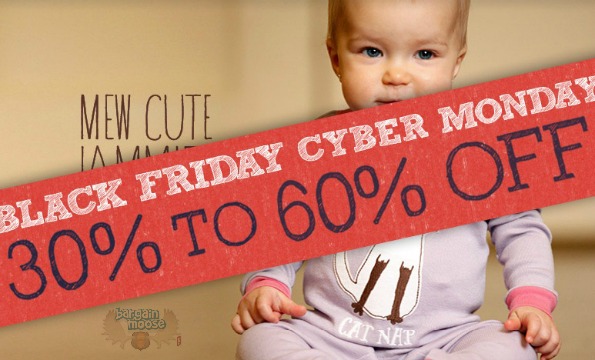 Hatley Canada is offering 30% to 60% off site-wide, online only.  No promo code is required and prices already reflect discount.  Sale is valid for a limited time while quantities last.
This is great timing since I was looking for jammies for my grandchildren this Christmas.  I just love these I Moose Be Dreaming Long Sleeve Kids Pajama Set that were $32.99 and are now $23.09.  These feature a moose on the front, (how fitting) and I can even get a pair for myself so we can match.  The women's pajamas have choices of t-shirts, pants, boxer shorts and different colours for the moose.  I like the Moose on Red Women's Boxers that were $19.99 and are now only $13.99.  To go with the boxers, I would prefer the Moose on Red Women's Tank Top that was $21.99 and is now $15.39.
I think my granddaughter would love this cute little "That's So Magic" Kids' Overall Print Pajamas that were $32.99 and now marked down to $13.20.  These are a beautiful pink and purple combination with bright stars all over the pants.  She will love it.  Maybe I can get some of the Moose jammies for their mom and dad as well.
If you're looking for stocking stuffers, you need to check out the kitchen category.  These tea towels are so cute.  I love this "Sushi" tea towel that was $8.94 and is now $5.94.  If you want, you can match it with an apron, pot holder and oven mitts to complete a set.
There are many adorable little magnets that were $4.49 and are now all $3.14.  There are far too many to show all of them, but you can match these with the aprons etc. as well for an even more complete stocking stuffer set.
There is of course, much more in the clothing section, but I wanted to focus on jammies considering the season.  There are even cute little Christmas ornaments that were $7.99 and are now $5.59.  I love this site!
Shipping: Free with purchase of $50 or more.
(Expiry: Limited time only)