Blame Betty: Up to 50% Off & Extra 30% Off Early Black Friday Coupon (EXPIRED)
26 November 2015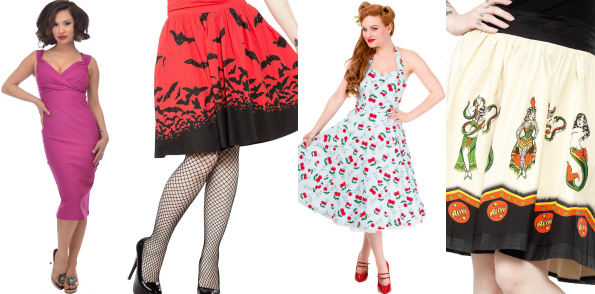 Blame Betty is the Canadian online destination for pinup style clothing! Today only, they released an insider coupon code for 30% off their entire store - this is good for today only. You will want to get in on this offer as their Black Friday 'regular' offer will only be 20% off. The best part is that you can put this coupon on top of deals in the sale section - clothing, accessories, makeup, and more is discounted by up to 50% off right now!
Click here to shop pinup style clothing @ Blame Betty now
Coupon Code: BLACKTHURSDAY
Discount: 30% off
Expiry: 26th November 2015
This Diva Dress in Magenta is one of the hottest finds in my opinion. Originally $95, the dress is currently on sale for $69. After coupon code, the dress comes down to just $48.30. Many sizes are still available - just not my size so I am pouting. I adore the shape of this dress as it is so much like the Pinup Clothing Erin Dress that looks amazing on curvy figures.
There are also 'swing' style dresses that do not conform to your figure so much. This Blind Side Halter Dress by Banned is perfect. Originally $82 and on sale for $59, the dress comes down to $41.30 after coupon. If you love cherries, then this is the dress for you. I prefer something - odder - and pinup knows how to embrace odd. This Sideshow Ladies Spooksville Dress was $72 and is now $59. Like the dress above, it comes down to $41.30 after coupon. There are many sizes left in this dress.
Pinup skirts rock as well. There is a skirt version of the above dress: the Sideshow Ladies Swing Skirt was $69 and is now $55. After coupon code, pick this skirt up for $38.50. If bats are more your style, then you can purchase the Spooksville Bats Swing Skirt in Red for the same discounted price. I am tempted by this one as they have it in my size.
The makeup deals are off the charts as well. This Eye Pencil in Navy was $18 and is now $9. You will pay $6.30 for it. Pick up this Pressed Shadow in Ultra Blue to complement. Originally $20 and now $10, you can pick this shadow up for $7.
I love pinup clothing because I have the curvy figure for it. Wiggle dresses and wiggle skirts are totally awesome! It is really hard to find pinup clothing in Canada so that is why Blame Betty is so important. Shipping is a flat $9.