Via Rail Canada Visa Offer: 50% Discount On Comfort Class Travel!
This is a great offer for Visa cardholders, who wish to travel with Via Rail in Canada. Before you jump in feet first though, check out the offer on 2 for 1 and see which works out better for you.
Where:

Online @ ViaRail.ca

What:

50% Discount on Comfort Class Travel

How:

Fill in your email address to get e-coupon
Travel must be completed between November 1 and December 14, 2008 or between January 6 and January 31, 2009 (inclusive). Limit of one e-coupon per e-mail address. Other conditions apply.
It seems the guys over at Frugalis spotted this a short while ago when it was only applicable to the end of October, but has now been extended to January 2009!
I enjoy train trips. I bet travelling across Canada on this would be a great experience. I always find I can sleep much better on a train than on any other form of transport. I can never ever sleep on airplanes!
Check out this photo of a Via Rail train courtesy of bribriTO.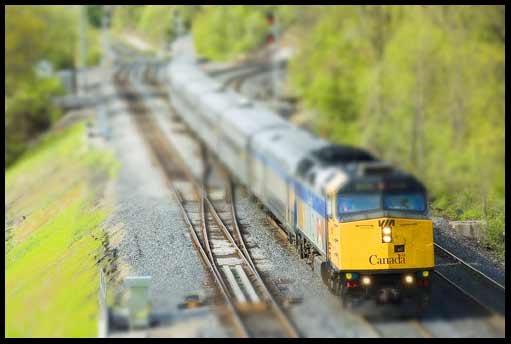 In Adobe Photoshop, I used a technique called "Tilt and Shift" to make it look like a miniature! Find out how to on the recedinghairline blog.