Staples Canada: Dollar Deals Save up to 75%
23 June 2012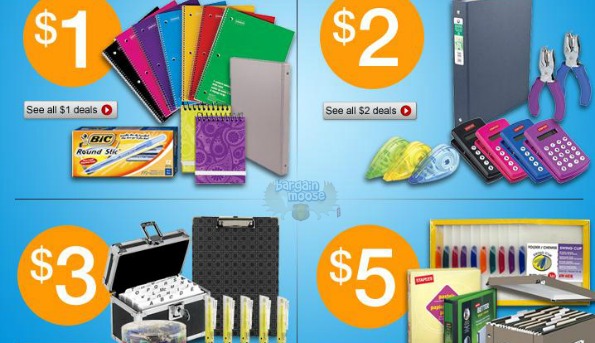 From now until July 3rd, Staples Canada has their Dollar Deals back in full force. You can get items up to 75% off the regular prices in the price amounts of $1, $2, $3 and $5.
Here are the different areas of deals that you can get:
I know that school is just ending for most kids and teens but this is a great time to stock up on all of those school supplies that they will need again in a couple of months.  A lot of time, the price of office and school supplies will be higher closer to September because companies know that you will need them.  My advice is to get them now and save them for September while they are priced so low right now.
You can pick up notebooks at 68% off for just $1, or a locking index card box at 82% off for just $3.  Whatever the office or school supply you are looking for, you are bound to find it in this sale.
You will find some these deals both online and in stores but the stores  might not have as good of stock as they do online and often run out of the more popular, high value deals.  Also, it looks as though many of the really great deals are only available online so depending on what you would like to get, check out the fine print first.  Staples offers free shipping for all orders over $50. And if you happen to be spending over $50, Anna has some coupon codes for a free 8 pack of Duracell batteries - post a comment below and we'll sort you out with one of those codes (good to 28th June 2012).
(Expiry: 3rd July 2012)