Mabels Labels: Spend $70 and Get $25 in Mabels Moolah
1 February 2011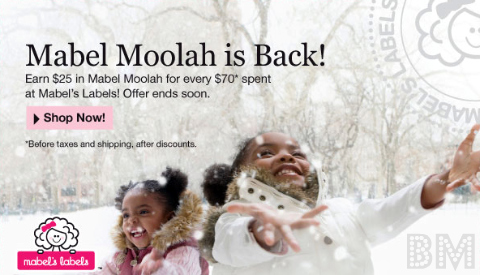 If you are looking to suddenly become the organization king or queen... you might need to set your sights on some labels. Right now Mabels Labels is offering a great little promotion: if you spend $70 you will get $25 worth of Mabels Moolah. That means at a later date you can come back and have $25 worth of credit to spend on more labels! Be sure to read all the DETAILS I linked to there.
Your cart must total $70 before taxes and shipping, but after discounts. Speaking of discounts, be sure to use our exclusive coupon code to get an extra 5% off your order!
Coupon code: BARGAINMOOSE
You could get some Loot Bags for a birthday party, labels for school, clothing, boxes, etc!
Deal expires the 11th, of February, 2011. Redemption of moolah scheduled for March.