Footlocker Canada: Lugz Zen Toggle Boots Were $120 | Now $50 & Free Shipping
17 August 2015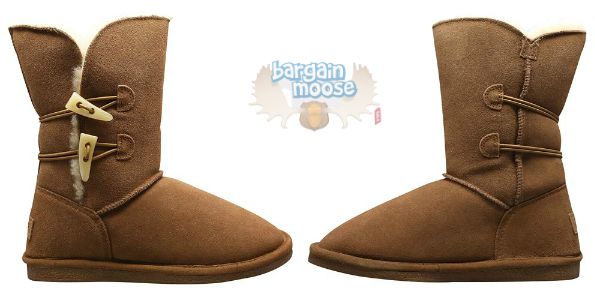 To prepare for the cold weather ahead and do some back to school shopping for your teen, I found a pretty hot deal over at Footlocker Canada. Get these Lugz Zen toggle boots, regularly $119.99, now $49.99. You'll also get free shipping when you use coupon code LKS45864 on all orders over $49. This saves you the additional $8.95 charge you would normally have to pay.
Footlocker will usually put out coupon codes to get you free shipping at $99 and this is the first time I've seen one on $49, so you'll want to take advantage. The Lugz boots are those cozy and comfy boots with a sheepskin lining and suede exterior. I've had boots like these (similar to Uggs) and I tell you, they are the most comfortable and warm boots you would ever wear. They aren't great in the snow though, as they are not waterproof, but good on dry November days, especially to wear to class.
They pull on easily, which is another thing I love about them, as there are no laces or zippers to mess with. When you realize you are late for the bus (moms and kids!), you can slip them on and run out the door. These ones do have toggle closures, but you don't have to use them as you can slip them on easily anyway.
I like the look of the toggle closures, as they add a bit of detail to otherwise plain boots.
I couldn't find these boots elsewhere, but I did find the Lugz website, which ships from the U.S. Their zen Lo boots, which are sort of similar sell for $91.65. ShoeMe also sells Lugz and these Mahala boots are on sale for $70. This is the best price you are going to find on these boots.
You might also want to see what else is on sale for under $100, as this coupon will last about two weeks and who knows when it will come back.
(Expiry: Unknown)