Cafepress Canada Promo Code: Exclusive Free Shipping On $60+
11 November 2014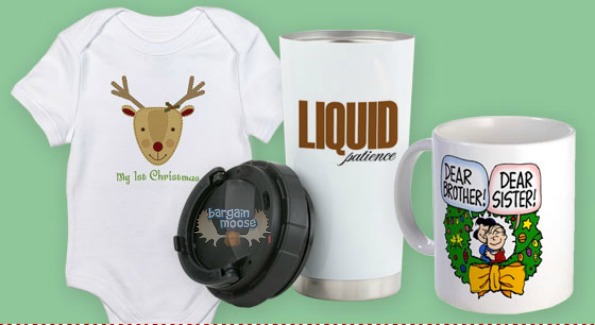 For one week only, we've secured a great exclusive for you from Cafepress. Get free shipping when you spend $60 with promo code. Usually, we like to give you free shipping with no minimum, but with Cafepress, your shipping fees are all determined by weight, so you could pay big with their regular shipping fees. For example, if you order a mug or something on the heavier side, you could pay about $12 just to get that mug shipped. Get a few mugs and that number will go up astronomically. This way, your shipping fees are guaranteed to be zero if you purchase more than $60.
Click here to shop @ Cafepress.ca now
Coupon Code: MOOSEJOY
Discount: free shipping on $60+
Expiry: 23rd November 2014
Cafepress is probably one of the most fun stores around, with amazing gift ideas for anyone on your list. I like that you can actually shop by gifts for a select type of person. For example, if you have a fitness buff in your life, they have compiled a large selection of gift ideas. I also like that there are a lot of items on sale, so you can get an item on sale and then get your free shipping too, with coupon code.
I really need a new gym bag for myself, but also one for my son for his sparring gear for karate. I love this Sweat is just fat crying bag, because it is motivating and not to mention, quite cute. It is $42, which almost has me up to my limit for free shipping. I could add this water bottle - Burpees hates you too, which is exactly what my personal trainer cousin just said to me the other day when I was complaining about how much I hate burpees!
Of course, with Christmas coming, you might want to check out all of the personalized Christmas ornaments they have available. Every year, I spend quite a bit on personalized ornaments for my family and I love getting them out each year and remembering the Christmases past. I actually have been trouble finding different ones, so this is perfect. My kids would be delirious over this chocolate donut ornament.
Just adding these items to my cart and a few other things before adding the coupon, I was going to be charged $22 in shipping. Add the coupon and that's your savings!
You might want to check the Bargainmoose forum for more Cafepress coupons. Don't forget that Cafepress does ship from the U.S., so while you won't have shipping fees to pay, you may incur duties, but you pay these at checkout so there are no surprises once your box gets to your door. If your items happened to be made in the U.S., don't forget, you don't have to pay duties!

More Back to school