Updated: Sep 21, 2016
Back to School Shoes & Fall Boots from $18.48 @ Shoe Warehouse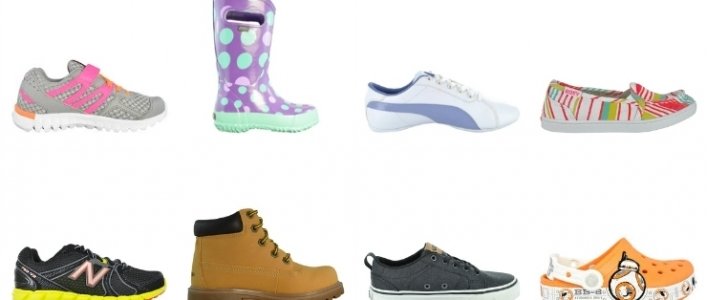 If you've started the back to school footwear hunt, I may be able to help! Shoe Warehouse has a huge selection of shoes, sandals and boots clearance priced, just in time for BTS.
For the girls, prices start at just $18.48 for these super-cute Lido slip-ons. They were originally $36.99. How great is that bold print? Crocs, like these Classic Kids' Clogs start at just $20.98 and you can save nearly $30 on these Birkenstock look-alike Betula sandals that are just $22.38. Runners, like this Skechers Ecstatix Wunderspark pair, that were $44.99 are down to $26.98 and other top brands like Saucony and Nike are just a couple of dollars more. Rain boots from Kamik start at $31.98 and the incomparable Bogs start as low as $39.98.
And for the boys, these cool Crocs Robo-Sharks are half-price at $22.38 and classic Clogs are just a few cents more at $23.98. Star Wars-themed Crocs, like this BB-8 pair are the same price. Sneakers from Vans are more than $20 off at $26.98 and this Character V pair from DC are just a few bucks more. Running shoes, like this Skechers Synergy Power Switch pair, that were $55.99 start at $33.58 and these New Balance 750 runners are just $34.88. These Spider Bogs are also just $39.98.
Shoe Warehouse ships orders to any of their stores for pick-up, free of charge. Home delivery is free on orders of $70 or more or about $8 for orders below that mark.
(Expires: Unknown)
More Back to school